Dog lovers in the audience would definitely agree that our canine friends have evolved with us for thousands of years and that made them more loyal and loving than any other pets in the world. For us, dogs are an integral part of our family and if you love something unconditionally, third on the list comes the dog after children and women (no pun intended!).
There's hardly any outdoor activity that brings you closer to nature other than camping out in the wild. And if you are a dog person, nothing could make you feel better than your dog accompanying you. Hence, you need the Top 8 tent for camping with dogs to make sure they are as comfortable and secure as you are while out there spending nights in the cold or in rough weather.
That's why today we've come up with a list of top-of-the-line dog-friendly tents that would not only ensure the maximum comfort and security to you but also keep your dog happy and comfy like home.
These are our Choice for the Best tent for Camping with dogs:
1- Coleman Sundome Tent (click to view)
2- Winterial Outdoor Pop-Up Pet Tent, Dog Tent (click to view)
3- Alcott Pup Tent, One Size, Green (click to view)
4- Coleman 8-Person Tent for Camping (click to view)
5- Coleman WeatherMaster 6-Person Tent (click to view)
6- Bessport Camping Tent Lightweight Backpacking (click to view)
7- Wenzel 8 Person Klondike Tent (click to view)
8- Core 11 Person Family Cabin Tent (click to view)
What are the Best Tents for Camping with Dogs?
So, what is the best tent for backpacking with dogs? Well, here is the moment of truth. There's no single tent that can meet everyone's requirements. Depending on the type and number of dogs, a particular tent might work for you best, but it might not match others. This is why we've sorted the ultimate models from different categories keeping the range of diversity in mind. Let's check them out.
#1. Overall best: Coleman Sundome Tent
If you want a sleek dome-shaped tent that your dog would have enough space to roam around along with the family members, Coleman Sundome should be your ideal choice. It's made of polyester fabric that is fully waterproof. It's easy to set up and fold. The materials used in it have made it lightweight, so you can carry it around everywhere.
We loved its waterproof feature as we didn't see a single drop of water penetrating its fabric even in a heavy downpour. The inverted seams and welded corners keep the inside of the tent fully dry and cozy. They've also added a rainfly that offers extra weather sealing.
We've tried this tent and saw it withstanding 35+ mile per hour wind without showing a hint of stress on any part, thanks to the strong frames.
One of the reasons we put it on top of our list is the level of the airflow this tent offers. The large windows coupled with the ground vent ensures amazing ventilation inside.
The E-port that comes with the tent allows you to connect your electronic devices to power outlets. This changes the whole game for many, especially those who go out for photography or videography in the wild.
The setup process was completed within 10 minutes of our starting. The system is highly intuitive and you wouldn't need to see the setup video more than once. The interior offers a huge space for you and your dog. In fact, it provides enough space for 4 people.
The interior is 9 ft by 7 ft. with a center height of 4 ft. 11 inches. You can fit one queen-size air bed with ease.
Specifications
Color available: Green
Highest Occupancy: 4 People
Floor Area: 63
Closure: Zipper
Seasons coverage: 3
Pole Material: Fiberglass
Fabric Type: Polyester
item Weight:10.25 Pounds
Shape: Dome
Warranty: 1 year
What We Like
Great design
Highly water and windproof
Strong build
Huge interior space
Good ventilation
Easy and fast setup
What Could Be Better
Too big for a solo camping
Final Verdict
This is a superb tent for camping with your dog and another two individuals. Be assured, it is one of the best tents for the dog owners. It offers amazing ventilation, protection from the sun, wind, and rain. The setup is easy and you have all the pins, rods, clips, and all for added stability. You can relax with your dog in it and forget about everything. If that's what you are looking up to, go get it before the stock runs out.
#2. Winterial Outdoor Pop-Up Pet Tent, Dog Tent
If you don't want the hassle of putting up a tent in the middle of nowhere and carry all the equipment for purpose, then Winterial has got you back. Your dog would have enough space in this fully assembled tent and you can't complain about any particular feature that it has.
The first thing about the tent that we love is its pre-assembled design. It's also called a travel bed and you only need one step to complete the whole setup process. This makes it a favorite for those who don't want to take the trouble of putting out the entire tent
In terms of comfort, it offers a nice sleeping pad that can be fitted onto the tent bottom. Your dog would feel much comfortable on the one-inch thick pad. They've included a storage bag with it too.
It features UV protected shading designed especially for outdoors. The ground anchors will ensure extra stability in both outdoors and indoors. It can be used as a beach tent that can be popped up within a minute. In bright sunlight, it gets uncomfortable to spend time putting up the tent. In this case, you don't have to spend more than 30 seconds to put this thing up.
The manufacturer made the tent using good quality materials. It has been designed carefully to ensure maximum ventilation. You'll find the mesh screen letting air pass easily while keeping the entire tent lightweight. As a result, it is super easy to carry around.
They've designed the tent keeping dogs in mind for sure. That's why they've added a 2 inches thick pad for the ultimate comfort for your pet.
Specifications
Dimensions: 64L x 30W x 29H inches
Padding: 2″ pad added
Weight: 2.6 pounds
Accessories: Carrying bag
UV protection: Yes
Setup process: 1-step
Ventilation: 2 double-layer doors with zipper and screens
What We Like
Lightweight
Pre-assembled
1-step setup
UV protection
Padding for pet
arrybag
What Could Be Better
Insufficient opening for the pet to look outside
Final Verdict
We liked the tent for its easy to use options. They've thoughtfully added convenient features for dogs in it, for example, the padding. However, they could have added a bigger opening for the pet for viewing outside. Other than that, it's a great product, and we don't think you can go wrong with buying it.
#3. Alcott Pup Tent, One Size, Green
If you want a nylon tent that has an effective waterproof base and sufficient ventilation, this is the best tent you can go for. We can bet that your dog will thrill in this amazing tent.
The green color of the tent will blend with the surrounding nature and will do much to soothe your eyes. The design is definitely attractive and the added zipper makes it easier to use. With the help of the zipper, you can open up the front in a snap.
The Nylon material is strong enough to keep you secure inside from rough weather and rainwater. It can withstand strong wind as well. The strong inserts are durably built, so it stays stable while facing the wind pressure.
It also offers a decent travel bag along with 4 separate ground stakes. This makes it super portable. If you are a tall guy you'll feel much comfortable in it as the interior height is around 30″ upon setup. The 32-inch width and 42-inch depth allow for one big dog. If you have multiple small or medium dogs, this should be an ideal model for you.
Alcott also recommends their Explorer sleeping bag with this tent to enjoy your outdoor adventure most securely. The fact that it weighs not more than one and a half pounds makes it a superb companion with your journey.
The base of the tent is fully waterproof, so you and your friend wouldn't have to worry about the sudden downpour. It features five mesh windows that ensure full ventilation and your dog can peep outside with ease.
Specifications
Dimensions: 32″W x 42″D x 30″H
Accessories: Includes 4 Ground Stakes & Travel Bag
Hue: Green
Closure: Zipper
Fabric Material: Nylon
Weight: 1.54 lbs
Shape: Round
What We Like
Lightweight
Enough ventilation
Multiple windows
Waterproof base
Can accommodate multiple dogs
What Could Be Better
An excited dog inside can break the pole
Final Verdict
This is an exciting tent for dogs as it offers enough space for them to roam inside. It is also the best backpacking tent for tall persons. This might result in trouble since the poles aren't that strong. We recommend this tent for those who travel with multiple dogs at a time.
#4. Coleman 8-Person Tent for Camping
For those who want to take the whole family into camping, this particular tent will be the best option. It can accommodate at least 8 adults and dogs within its gigantic space measuring 10 feet in width, 17 in length, and 72 inches height from the center.
The huge space is impenetrable by Coleman's patented Weathertec System, meaning you'll be dry and cozy even in torrential rain. What's more, you can actually create 3 separate rooms for ensuring extra privacy. They've added room dividers to the package for that purpose.
From outside, it looks superbly secure and aesthetic. There's no way you can go wrong during rough weather. We found it to remain stable during heavy wind, thanks to its strong poles.
It took us only a few moments to put it up. The setup is highly intuitive and super simple. They provide all the required instructions for assembling within the shortest period of time.
Your dog would love it no less. The Cool-Air ports are all around they have added an adjustable Variflo venting system to ensure that there's an optimum level of airflow all the time.
Specifications
Color: Red
Closure option: Zipper
Max Space:7+ people
Height: 72-inch
Weight: 22.4 lbs
Floor Space:1702
Seasons:4
What We Like
Huge space
Great ventilation
Waterproof
Room separator
Attractive design
Enough space for pets
What Could Be Better
Water may get in if it rains for long
Fina Verdict
This is a great option for accommodating more than 7 people at a time. So, you have enough space for a dozen dogs here for sure! For the money, it offers good value. You can't really go wrong buying this.
#5. Coleman WeatherMaster 6-Person Tent with Screen Room
Coleman has come up with another masterpiece here. This WeatherMaster full-fledged tent is ideal for up to six individuals. That's enough for a whole family. This tent can also be an excellent option for dog loves as well. Let's find out why.
It offers enough space for your pet to roam around without any suffocation at any point. You have 2 separate airbeds that are of queen-size! So, your canine can find an amazing wallowing spot all night.
Dogs are often irritated by bugs when gone out for camping. That's a common situation most of us are aware of. For this reason, Coleman has added a separate screen room that is floorless for lunging bug-free.
They've also added an exclusive welded floor that features inverted seams known as the WeatherTec system. It keeps the interior dry and cozy.
The screen room is 9 feet by 6 feet while the total space is 11 feet by 9 feet with 6'8″ center height. If it rains in torrents, no worries, they have included a Rainfly. With the package, you also get a carry bag.
Specifications
Color: Brown
Closure: Zipper
Fits: 6 people
Total Weight: 32 lbs
Pole Material: Fiberglass
Floor Space: 532
Seasons coverage: 4
What We Like
Spacious
Zipper makes it easy for entry & exit
Strong polyester material
Multiple seasons shield
Strong pole material
What Could Be Better
Doesn't hold up to rain efficiently
Final Verdict
If you are planning to take your pet to camp during summertime, this should be an ideal choice as it has lots of space. However, we don't recommend it during the rains. It can't hold much rain and may leak. Other than that, it's a great buy.
#6. Bessport Camping Tent Lightweight Backpacking
Unlike the two previous models this one doesn't offer huge space, but what it offers is class. Bessport Camping model is the ideal tent for mountaineering, outdoors travels. It is also the best tent for hiking the appalachian trail. It features two decently designed D-Shaped doors including two vestibules. It can be an excellent choice for you if you want to take your pet with you during camping in the wild. Let's find out the reasons.
The first thing that we liked about the tent is its weight. The solid 5.2 pounds gives a premium feel for its quality material. The Canopy interior will cover around 31 square feet. The floor of the tent is 86.6 inches long, 48.4 inches wide and the interior height measures 43.5 inches, meaning you will have enough space not only for yourself but also for your dog.
Another notable feature that heightens the tent as a premium model is its weather resistance feature. The construction is seam taped, meaning it will be simply impenetrable by rain. It is really hard to leak. The floor is welded for keeping you dry
On top of that, it is also highly water-resistant, thanks to seam taped build that resists water preventing leakage. The floor is welded so your backpack is safe from wet ground. They've also added a rainfly that will protect you during torrential rain.
The build is not only durable but also breathable and lightweight. The stakes are made from high grade 7001 Series aluminum. The ultra-lightness is also the result of its walls that is made of no-see mesh material. It stands upright against a strong wind.
The entire structure has a freestanding design. You have enough clip-pole attachments to set it up. It's also easy to set up and lightness makes it even easier to carry around. You wouldn't have to disassemble it when relocating.
Specifications
Color: 2P-Light Grey
Closure: Zipper
Fits:2 people max
Weight: 5.2 lbs
Pole Material: Aluminum
Maximum Height: 43.5-inch
Shape: Round
What We Like
Highly durable
Classy design
Fully waterproof
Freestanding design
Stands against wind upright
Strong construction
Easy setup
What Could Be Better
Not much space for more than two persons
Final Verdict
Well, the only complaint you can raise against this superbly built tent is that it doesn't have a lot of space for your dog. That's why we suggest it to people who want to go camping with their dogs alone. It can also be the best tent for 2 adults and a dog. Pick a bigger one if you want to travel with others.
#7. Wenzel 8 Person Klondike Tent
Many would agree with me if I say this isn't just a tent, it's a house! Jokes apart, this one packs so many goodies that you would definitely want to get it home as soon as you are over reading this review.
First of all, it offers a huge space inside it that you can take your entire family and your pets inside it. 3 side windows with a zippered closure system make it super easy to access air and light whenever you want. You can never feel suffocated inside it.
The door has an inverted 'T' design, it gives it a unique look and easy access. The windows come with flaps and zippers for convenience. The fly that comes with it is both removable and seam-sealed.
Another thing I assure you'll like is the mesh roof vent that comes with the package. It will ensure enough airflow inside the tent. The roof frame is supported by fiberglass materials that are also shock-corded. It also features stainless steel corner elbows and uprights coupled with rings and pins, meaning the set up will be easy.
If you are planning to move with less than 8 people, you can definitely take your dogs with you. Trust me, your dogs would love this tent. This tent is built to withstand strong wind and storms even. You can enjoy rains from inside as you do from the comfort of your own home.
Specifications
Color:Blue
Closure option: Zipper
Fits: 8 people
Total Weight: 27.3 lbs
Pole Material: Steel and Fiberglass
Seasons: Three
Shape: Round
What We Like
Huge space for group hangouts
Excellent build quality
Hi-low ventilation
Accessory pockets
Second room screen
Strong weather armor
Protects from outside insects
What Could Be Better
Heavy and hard to carry around
Final Verdict
Apart from the size, and carrying hassles, you can't really go wrong with this giant tent. It is so big that eight fully grown adults can easily use it and get night time protection when camping outside. Besides, it is the best tent with screened porch. Your dog should also love it as it offers so much space.
#8. Core 11 Person Family Cabin Tent
Core has come up with even a bigger cabin tent than our previous choice. This one is ideal for you if you want to take the entire family out. It can support up to 11 people inside. This makes it an excellent choice for dogs too.
You can actually 3 queen size air mattresses without any problem. On top of that, the center is high enough (86″) to support everyone standing upright.
It also sports a screen room in the front and window panels. The floor is made of COre H20 using Block Technology. The ground vents are adjustable, meaning you can change them if you like.
They've also added pockets and lantern hook along with gear loft so that you can keep different items organized. The access port for an electrical cord will add extra convenience.
You'll get a carry bag, rainfly, tent poles, and tent stakes in the package.
Specifications
Color: Orange
Closure Option: Zipper
Fits:11 Person
Weight: 14.79 Kg
Height: 86-inch
Floor space: 204 (Square Feet)
Warranty: 1 year limited
What We Like
Huge space
Eye-catching design
Strong build quality
Adjustable flaps and zippers
Electric cable access ports
Good protection from rain
What Could Be Better
Final Verdict:
This is a tent you choose if you plan to take your whole family and friends outside camping. Your dogs would have plenty of space to fool around. It might be heavy but is built to last. You can trust it in rough weather.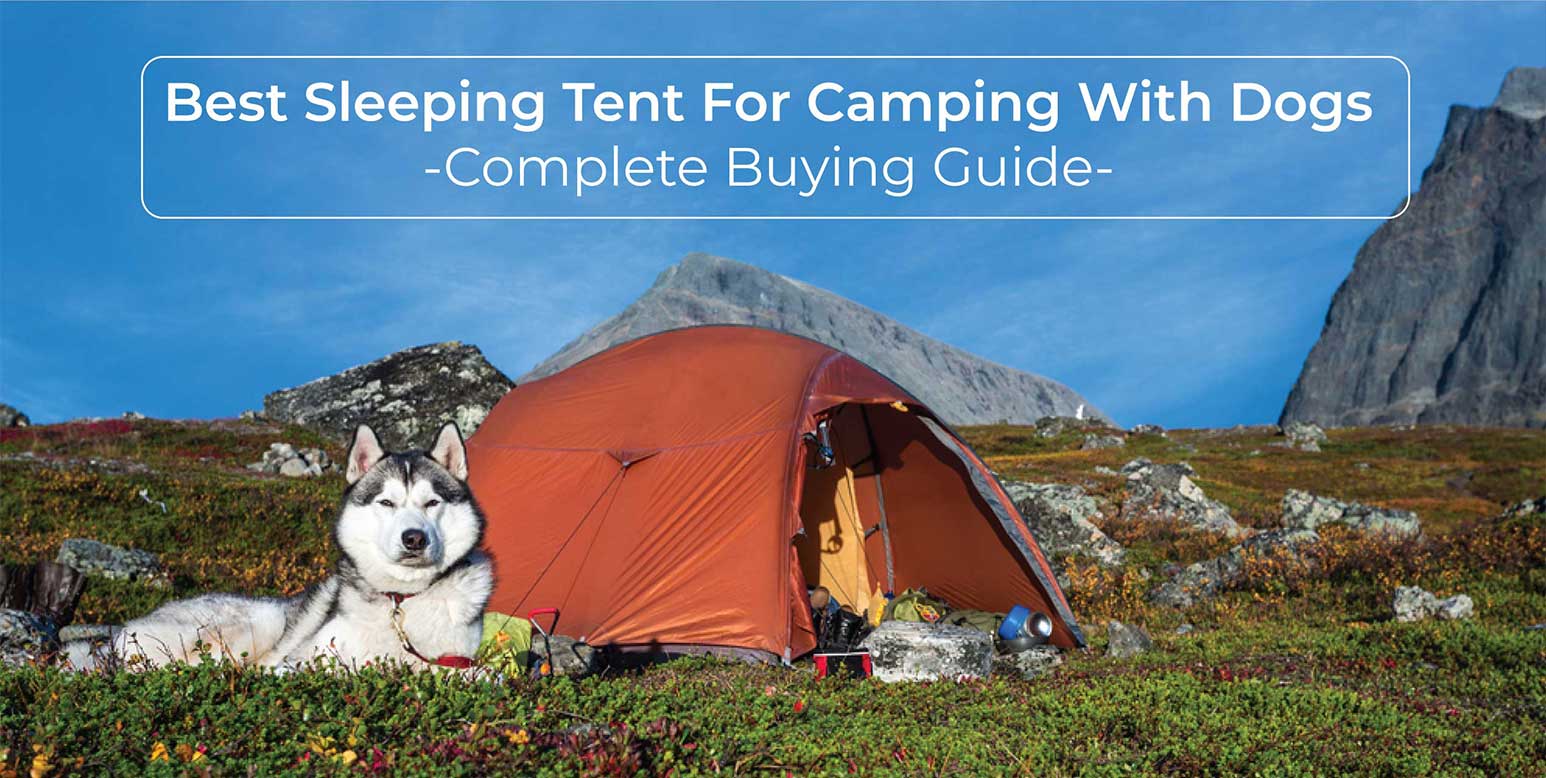 Guide to Camping with a Nervous Dog: Buying Tips
Planning for an outdoor camp with your dogs might seem easy. But when it comes to choosing the right tent, there are plenty of things to get your head around. So, it's not an easy job, to be honest. You've got to make sure that you understand your requirements well. Apart from that let's discuss some key issues that you need to keep in mind before getting the best tents for camping with dogs
What kind of dog will you be camping with?
The size of the dog matters! For example, if you have small dogs, they should fit just about any tent that fits you. We've taken medium-sized dogs as our standard while writing this review. The medium size is more common than the bigger and smaller ones. Not all dog breeds are equally friendly and aggressive for camping. Some are absolutely mick and calm while others would be restless while being confined into Your dog's breed plays a vital role in making the perfect tent choice.
For example, if your dog has a thicker skin, it will demand more ventilation during summer campaigns. On the other hand, if you have big dogs, try to choose a bigger tent with more space. We also recommend not to take greyhounds with you during monsoon camping's. They are terrified by the storms.
How Do You Camp with Dogs in a Tent?
Camping with dogs in a tent has its good sides and 'not so good' sides. If you follow certain tricks, your camp will be a fun one. If you happen to take the weather and quality of the tent and the nature of your dog or dogs for granted, things might turn out bad for you in the middle of your adventure.
First of all, get a tent that fits the number of people and dogs you want to take with you. Also, try to figure out the season and weather conditions that you will be in during your camp time.
Canine Camping Gear: Things You Need to Bring When Camping with Your Dog
Looking for the best tent for dog owners is not enough when you plan to camp outside. There are other things that you must carry with you. You should definitely bring the shock collar with your dog in the camp. It will help you keep your pet obedient all through the journey. Often dogs might go too aggressive and go nuts if approached by wild animals or insects. In those cases, a dog collar should definitely help. Apart from that make sure you keep footpads, extra leash, fast aid kit, poop bags, proper food storage, high-absorbency towel, jacket or coat, food dispensing toy or puzzle, safety light, and a soft mat in your checklist.
Takeaway
So, there you go, hopefully, you can now choose the best tents for camping with dogs for owners from my list. I've tried to add a diverse category so different needs and requirements are met. Remember, dogs are sensitive animals, so you've got to make sure your dogs don't suffer while camping outside in dire weather. If you are still confused about the best tent for backpacking with dogs, just get our first choice and go with it.
Happy shopping!
Related Reviews:
Best Training Collar For German Shepherd
Best Dog Houses For Hot Weather
Best Retractable Dog Leash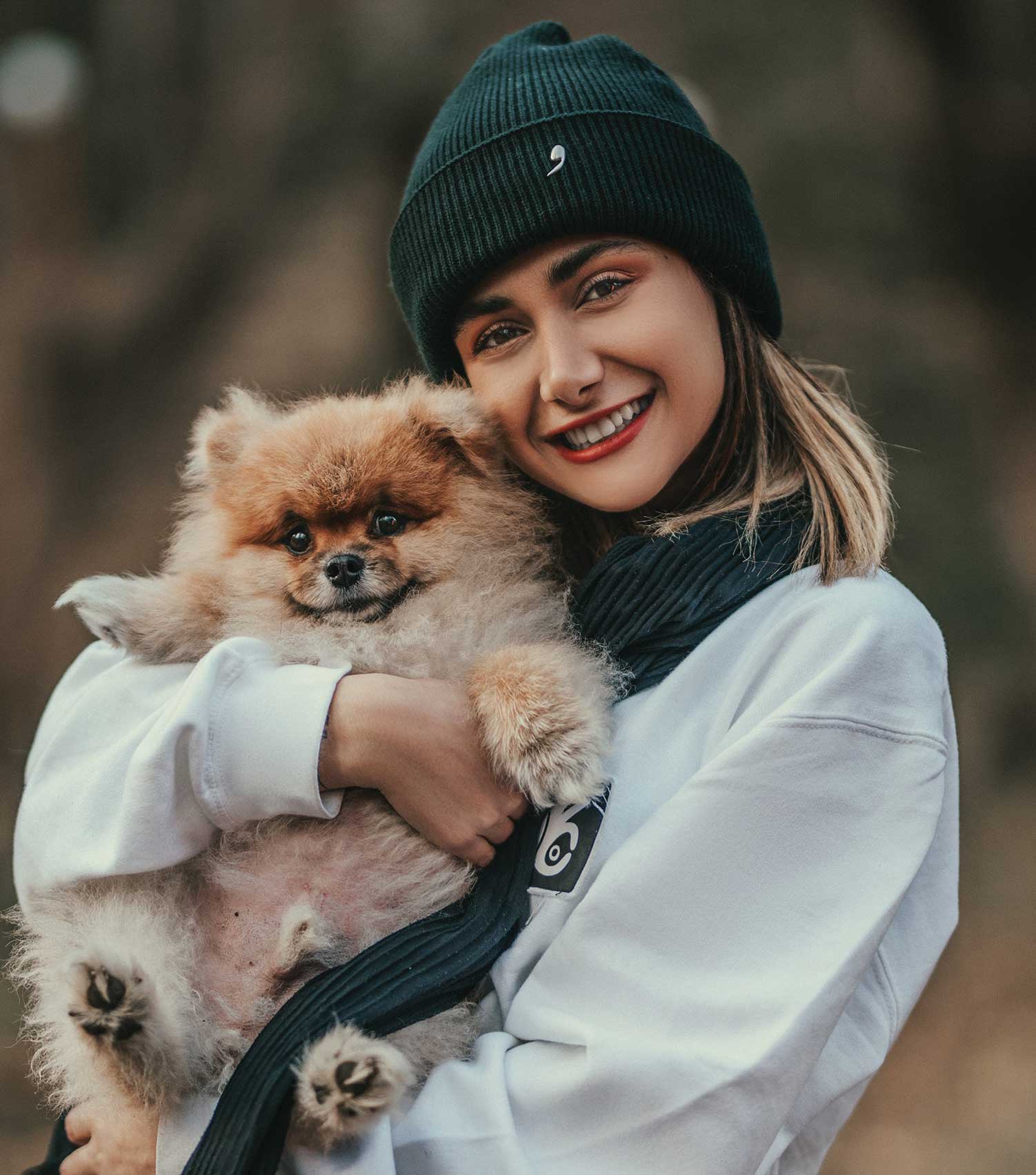 This is Evelin K. Williams. I am passionate about dogs, cats, and love sharing everything. I have Created dog cat talk to talk about my journey. Products that I have used/admire, and lessons that I have learned in my dog cat career.