I can't think of long trips with my cat without a cat carrier. My feline friend seems to love it as much as I do. It is the best option to travel with a cat. Me in the car, and my cat in the carrier! Lovely.
It's spacious and comfy with lots of space for ventilation. But, don't get it wrong, I didn't just pick any other portable cat carrier from the market and put my Chameleon in. I had done extensive market research before I got it.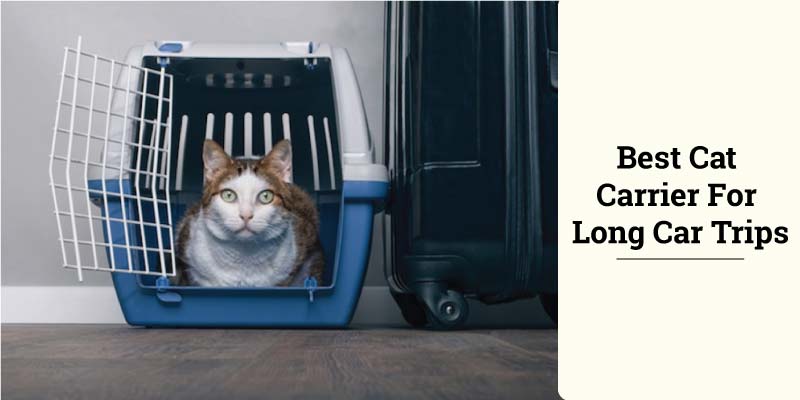 I wouldn't know that there was so much to learn about this tiny cute looking box that cats often dread to get in. Trust me, if you can secure the right one, your furry friend would definitely respect your choice!
Today, I've got 7 best cat carriers for long car trips on my list to give you a quick hint about how the market looks like at this moment.
I mean, there are plenty of options out there, so it gets really hard to get your head around when choosing the right model for your lovely pet.
That's why the following models have been carefully sorted and thoroughly reviewed, so you get all the useful information required to make a calculative buying decision.
Let's dive right into them.
Our Top 7 Best Cat Carrier for Long Car Trips
So, what is the best cat carrier out there today? Well, here is the moment of truth, there's no single model that will match every cat. So, that's the reason I sorted and listed a collection of them, so you can choose the one that fits your pet best.
#1. AmazonBasics Soft-Sided Mesh Pet Travel Carrier
AmazonBasics has come up with an excellent carrier with a multitude of fantastic options and we have good reasons to put it on top of our list. Let's find out why.
Specifications
Dimensions: 16.5"L x 10"W x 10"H
Max Load Capacity: 7.3 kg
Material: Washable, soft
Ventilation: Yes
Cleaning: Normal
Size: It's a soft-sided medium carrier measuring 16.5 inches in length, 9.4 inches in length, and 9.8 inches in height. This means it can fit medium-sized cats and any pet similar in size.
Design: The design is rectangular and the carrier is lightweight. In fact, you wouldn't expect the lightness when looking at it for the first time. 
Portability: For easy carrying, they've added carrying handles, the grip feels excellent in hand. The extra shoulder strap is adjustable for matching your height. 
Travel Friendly: We often have to fly with our pets and that's why it's important for the carrier to be of such a shape and height that would easily fit the space under the seat of regular airlines. This carrier does a lot of favor by conforming to that specific dimension. 
Easy Cleaning: No worries if your furry friend makes the fleece pad dirty. Unlike many carriers that come with a fixed pad, this one offers a removable one that is also machine washable. That means you won't have to get the entire thing soaked and drenched. You can wash both of them separately. A mild application of detergent and cool water are enough to do the job. 
Light Weight: The maximum load capacity of the bag is 7.3 kilograms. However, it's not wise to focus on the weight capacity of the carrier when choosing it. Make sure you measure the pet's length and height to go for the right size.
[SPECIAL NOTE] The manufacturer has some recommendations for washing. You are not supposed to use bleach or line or tumble dry. Dry cleaning or applying iron are also not good ideas. You should leave it to dry naturally and shouldn't use it wet. You might need to reshape it in case it loses shape.
What We Like
Lightweight
Compact design
Reasonable pricing
Washable material
What Could Be Better
This is one of the sleekest cat carrier bags that offers great value for the money. The compact design and lightness are the key selling points of this model. On top of that, you can also wash the fleece. Other than the narrow top opening, there's nothing to complain about. We hope your cat loves it. 
#2. Petmate Two Door Top Load
For those who are looking for an efficient and smart pet crate for cats and small dogs, Petmate would be a spot-on option.
Specifications
Dimensions:19-inch x 13-inch x 10-inch
Type: Crate
Door: Grated steel
Color options: 4
Loading: Top-loading
Door Latches: Easy-squeeze
Load capacity: Up to 10 pounds
Super Design: With a top-entry door, accessing your furry friend would be no problem at all.
Specially for Lightweights: If your pet's breed weighs no more than 10 lbs. and measures less than 19 inches, then this is the carrier you'd love to own. 
Travel Friendly: If you travel on-air with your pet often, be assured that this model is approved by most airlines as it meets their cargo specifications. They've also added advanced kennels for air travel. The sides of the bag are ventilated, meaning, your pet will have no trouble getting fresh air. 
Smooth Gripper: It comes with an ergonomically designed comfort-grip handle for ease of carrying long distances.
Comforting: This cat crate fits all types of car spaces because of its unique hexagonal design. The top-load door is made of stainless steel. You can move within it with the help of an easy-squeeze latch. 
Ensures Safety: Many wonder about the use of a cat kennel or a cat crate for the pets. But they are vital safety options for dogs and cats. Petmate has been manufacturing quality crates and pet carriers for more than 50 years. It signifies their commitment which has been reflected in this particular model to all its entirety. 
What We Like
Steel door
Hard outer shell
Top-loading
Easy-squeeze door latch
Ideal for both cats and small dogs
What Could Be Better
Doesn't have many size options
Final Verdict:
It's a quality cat crate and can challenge any other model at this price range. You can get it for both your cats and small dogs. Its easy-access top-loading door makes it super simple to put your pet in and out. It's a premium product, and you can't really go wrong with it. 
#3. Best Portable Cat Carrier for Two Cats: One for Pets Portable 2-in-1
This one has been picked exclusively for those who need to carry two cats at a time. This particular large cat carrier comes with an individual carry case for easy storage.
Specifications
Dimensions: 20-inch x 20-inch x 39-inch
Mesh door: Multiple
Using modes: 3
Compartment: Dual
Pad cover: Removable, washable
Carry capacity: 2 pets at a time
Foldable: One of the coolest things about this model is that you can set it up easily and fold it up flat in an instant when not in use.
Easy to Clean: It features soft pad covers that are both removable and washable. 
Safe: The built-in straps are designed to connect with a seatbelt for ensuring safety. In terms of entrances, it has more than one option.
Simple Design: You can literally fold up the entrance by rolling it up and strapping it with velcro. It has multiple lightweight mesh doors.
Best for Camping with Cats: In case you are out camping with your pets, you can use the 4 hooks that come with the carrier for securing it to the ground. There are three ways to use these carriers. One, you can make a bridge between the two by lifting their side entrances. You can also detach it to make two single canals. 
What We Like
Dual compartment design
Can carry multiple pets
Foldable design
Highly portable
Smart mesh entrance
washable and removable pads
What Could Be Better
Not ideal for single pet owners
This is a unique two-pet carrier that is ideal for those who own multiple feline friends. It's smart and highly portable. The design allows you to keep it folded and be carried like a briefcase.
4: Sherpa Travel Original Deluxe Airline Approved Pet Carrier
The name Sherpa triggers trust in you as soon as you hear the name, imagine what you'd do on the outskirts of the Himalayan Mount Everest without your sherpa getting your back all the time. The concept is similar here. It's reliable, classy, sturdy, and durable.
Specifications
Dimensions: 17-inch L x 11-inch W x 10.5-inch H
Entry: Double-way entry
Ventilation: Mesh window
Safety zippers: Yes
Sitting pad: Machine-washable
Airline-compatibility: Approved
Widely Accepted: Sherpa Pet carrier is airline-approved and ideal for both small dogs and cats. It is strong enough to hold up to 16 pounds of weight, so, match that with your pet before getting this one. 
Proper Ventilation: On the two sides of the carrier, you have mesh installation for adequate airflow and outside visual for the pet. They've added locking safety zippers with it, so your pet can't push that open.
Simple Construction: It offers both top and side entry. The sitting pad has a machine-washable liner. 
Comforting: There's a stability board beneath the pad. It's responsible for holding the rectangular shape of the carrier. The handle straps are also padded for ensuring extra comfort.
Easy to Carry: It also has luggage straps for attaching it to rolling suitcases. The no-slip shoulder strap is also adjustable. The spring-wire frame allows this bag to fit under airline seats snugly. 
[TIPS] You must measure your pet before putting them inside the carrier or planning to buy one. Otherwise, no matter how expensive your carrier is, your pet will suffer.
What We Like
Modern design
Airline-approved
Machine washable sitting pad
Safety zippers
Enough ventilation
Double-way entry
Lightweight
What Could Be Better
Overall build quality could be improved
I don't mince my words when talking about genuine flaws in the product. This one might appear thinner, but offers lots of features and productivity.
The design is futuristic and it keeps a low profile to fit in Airline seats. We expected it to be more durable though, but still, it offers value for how much it costs.
#5. Sport Pet Foldable Travel Cat Carrier
If you are sick of awkward cat carriers that you have to struggle to push your pet in or find it really troublesome to release your pet from, then Sport Pet travel carrier should be the answer.
Specifications
Dimensions: 15. 2-inch L x 18. 5-inch W x 14. 2-inch H
Bed dimensions: 18-inch L x 13. 75-inch W
Pad cleaning: Machine washable
Weight capacity: 25 pounds max
Suitable for: Car and visit to the vet
Explicit Design: The design of this model speaks for itself.  It has a patented design that makes it super fun and easy to release your pet from the carrier.
Smart Storage: When not being used, it can be a tiny home for your furry friend too. All you need to do is push the textured tabs inside panels until you hear a 'click'. In fact, it folds down to 4 inches flat for easy storage. 
Portable: The whole carrier is super portable. It can collapse flat within a second. There is a red push button added to the left side of the carrier, so you can do it fast.
Easy for Cats: The door lock is a single-motion quick mechanism. You need to select models that include a bed that fits inside. The opening is so large that it makes loading cats super easy.
Safe: The locking system is durable enough to give you confidence in the middle of the journey. Rest assured that your cat wouldn't be able to open it from inside. It's one of the most perfect carries to carry your pet everywhere you go. 
What We Like
Strong build quality
Impressive design
Wide side opening
Secure door locking
Pet bed is washable
Foldable
High weight capacity
What Could Be Better
Not flexible enough
Can't fit more than one cat
This one is a unique solution for those who want to move with only one cat with confidence.
It has a superb foldable option and unlike most foldable models, it still remains as sturdy and solid as a non-foldable model.
You can also machine wash the bed of this model, which is an extra plus as most models don't support that.
Overall, for the money, it's hard to beat its value. Go grab it before the stock runs out.
#6: Petmate Vari Kennel
I've tried to include different types of winning models here for making the list more versatile. I understand that my audience would come up with pets of different sizes and types.
To solve the problem of carrying around a huge cat, here is the Petmate Ultra Vari Kennel. This one is literally huge.
Highlighted Features:
Dimensions-36.25-inch L x 24.75-inch W x 28.8 H-inch
Weight capacity: 90 lbs.
Pet length max: 40 inches
Handle carrying capacity: 10 lbs.
Airline clearance: Adaptable
Great Ventilation: This huge kennel sports tie-down holes for strap and stylish wire vents to ensure sufficient ventilation.
Comforting: Large cats would need raised interior and spacious space to feel comfortable. This model has that and it also has the capacity of sheltering a pet weighing up to 90 pounds. A 40-inch long pet would feel at home inside it easily. 
Airline Accepted: This model is also Airline-Adaptable, meaning it meets the specifications given by airline cargos around the world.
Durable: The heavy-duty plastic material makes it lightweight. In fact, you'd be surprised to find it light despite having a large frame.
Easy Operation: The easy-open latch set in the front makes it easy for the pets to get in and out effortlessly. 
Outlook: The carrying handle can tackle up to 10 pounds. The 'true blue' color will surely impress you nonetheless. 
What We Like
Built to last
Designed for comfort
Satisfies pets' natural denning instincts
High load capacity
Easy entry and exit
Comfy interior
High ceiling
Large capacity
What Could Be Better
Petmate Ultra Vari Kennel outshines other models in terms of capacity, strength, and build quality.
It's truly a large kennel for oversized pets. If you have to move with two cats, it is still perfect. If you have one, well, you can't really go wrong with it.
But I've labeled it to be the best cat carrier for two cats.
#7. ibiyaya 5-in-1 Pet Carrier Backpack
As I mentioned earlier, I've made a list of carriers for everyone here. Last but not least, ibiyaya 5-in-1 carrier is one of the best cat carriers for long car trips. Let's find out why.
Specifications
Weight limit: 16 pounds
Dimensions: 20-inch L / 12-inch W / 13.5-inch H
Carrier weight: 4 pounds
Stroller weight: 2.6 pounds
Configurations: 5
Wheel swivel: 360 degrees
Folding: Yes
Multifunctional Cat Stroller: This advanced model is exactly what its name suggests–a multifunctional 5 in 1 pet carrier stroller. Not only do you get to stroll it limitlessly, you also have an adjustable shoulder strap for carrying without wheels.
Different Carrying Options: Interestingly, you can fit the strap in a way that it can be worn like a backpack too. It is the best cat carrier backpack style. No other models on our list offer you a wheeled carrier like ibiyaya does. It's a fantastic feature that gives you the freedom to drag your beloved furry friend like a wheeled luggage bag style. The same wheeled carrier can be converted to a stroller in an instant! 
Super Quality: This model offers you the freedom of choosing the manner in which you and your feline pet prefer to. The quality of the wheels is good and it passed the SGS quality standard.
Safe: The zippers are smooth and quiet. They've added a telescopic handle with a multistage design. It's a durably built carrier that's meant to last. It is ideal for cats and medium sized dogs. 
I loved it the very first time I laid my eyes on it. I can guarantee that your pet will have lots of fun in this cat backpack carrier.
What We Like
Excellent design
Durable build quality
Easy strolling features
Comfortable and portable
What Could Be Better
Total weight of the package heavier than other models
If you want a stylish and unique portable cat carrier bag that will draw a lot of attention, this is the model to get. It's designed with the idea that both the pet and owner will find it convenient to use in different circumstances.
Pet Travel Tips for Cat Owners
Why Should You Get a Best Cat Carrier?
Why should not you get one best portable cat carrier? There is zero cause. There are several benefits you are going to get if you grab a cat cage. Let's find out the reasons in brief.
It is great for travel by air, car and train. No public transport will allow you to carry a cat without a proper carrier.
If you use it, your car will not be messy with cat litter.
It will allow you to walk freely; no attention is needed to ensure cat safety.
You can even use the carrier later at home as a permanent cat residence.
So, regardless of its style, a cat carrier is the best choice for travelling with cats.
How to Choose the Perfect Cat Carrier (6 Best Ways)
Selecting a cat carrier can be tricky. I will share my personal experiences to make the selection process easy for you. Check out the 6 best ways to choose the best-rated cat carrier within two minutes of research.
Size: It's the most crucial factor. The size of the cage will depend on the size of the cats. If you have one small cat, you should buy a cage smaller in size. But, my personal advice is to buy a cat carrier which can carry two cats. Now, what will happen if you choose this? If you have one cat (regardless of the size), it will get enough space. If you have two cats, then there is no other option other than buying a cat carrier for two cats.
Lightweight: It is my personal priority. Being a woman, I always try to choose portable pet accessories with ultra-lightweight.
Acceptability: Smart way to choose a pet carrier should be listed as an acceptable carrier by renowned travel authorities.
Washability: The padding system and easily washable cat cage will be your first priority. Remember, these cages are designed for travel. And while travelling will get minimal to zero facility of washing.
Ventilation: Most of the time, we overlook the importance of ventilation. As we are travelling, the mode of transportation might not be smooth as expected. So, we need to choose such a carrier which will be highly breathable.
Foldable: With this virtue, the best cat bag turns into the greatest bags of all time. Foldability gives you the freedom to fold the cage as per your requirement.
What is the Best Cat Carrier for Long Distance Car Travel?
If you are looking for an exclusive cat cage for distant travel, I would suggest Sherpa Travel Original Deluxe Airline Approved Pet Carrier. This is the best carrier with excellent features, wide acceptability and lower price. Your long-distance car will be hassle-free, enjoyable and memorable.
What to consider when shopping for a pet carrier
There are few things you must look for while buying a pet carrier. Regardless of the pet you have, you must check the flowing criteria to ensure you select the best pet carrier.
The size of the carrier should be spacious and comfortable for the pet. The pet should not feel the carrier like a jail.
The pet carrier needs to be lightweight.
Easily washable carrier is a big Yay.
The carrier must be breathable and versatile in nature.
How to encourage a cat to like its carrier
I know why you are asking this; you must have a stubborn cat at home. I know the feeling. Don't worry I would suggest the simple procedure to encourage a difficult cat to fall in love with the carrier.
Trick 1: Don't force the cat to get into the carrier. Use the portable carrier like a permanent home. You should start practising it few days before your travel date.
Trick 2: Luring the cat can be the best way. You can put a treat inside the cage and wait for the cat to take it. That will give a positive message to the cat about the cage.
Trick 3: Make the carrier comfortable. You can décor the carrier with the cat's favourite toys.
What can I give my cat for travel anxiety?
Sedatives are not always a good option to get rid of travel anxiety. The best way to calm the cat can be done by using pheromone or by providing comfy. But, if you are a frequent traveller, then you must plan for longer. Let me give you a tip.
You can go for a walk with your anxious cat once a week. You must use a cat carrier at this time. That will effectively reduce the cat's anxiety of travelling long distance.
Guide to Traveling With a Nervous Cat in a Carrier: A Comprehensive Buying Guide
Moving with a nervous cat can be difficult if you don't have the right cat travel cage. Nervous cats need extra care. You better not force it to do anything. Don't rush it for a certain action. Instead, make the carrier comfy enough, so your feline friend learns to love it. Here are the key points that you need to focus before you want to move with a cat cage or a carrier pouch.
Where to Stay When Traveling With Your Cat?
First, make sure that you are choosing a hotel or motel that allows pets. Usually, different hotels have different cat policies, some allow you to leave your pet behind, some don't.
You should choose one that gives you the most freedom. Also, make sure your cat doesn't damage anything in the staying place.
For that to ensure, can check out the website of the hotel to find out any potential thing that you cat might get interested in. I'd recommend going for an option that is less crowded with lots of space for the pet to walk around. That doesn't mean you should leave your cat outside. Spacious and calm environment makes cats feel more at home.
Tips When Your Cat Is Inside & Outside The Carrier
No pet likes a small space to remain calm. It's pretty suffocating for them. So you should train your cat to adjust itself in a carrier from an early age.
So, once it's inside, it doesn't freak out. Remember, cats love soft beddings. You can make the carrier bed softer with extra padding.
Also, make sure that the carry box is accessible to the cat all the time by keeping the door open when lying on the floor. You can feed your cat either inside or outside the carrier. Let it choose what to do.
You can also train your cat to respond to 'in' command and use it to get inside the carrier. Don't rush once your carrier gets in, pick it up gently. You might need some practice walking with the cat enclosures in hand.
You should also get your pet familiar with the car before taking it out. Let your vet know about the trip and follow his/her suggestions. It's better if you take frequent pit stops.
Some Closing Tips When Traveling With Your Cat For a Long Trip
Despite everything you do to make your cat be comfortable with the carrier, it might never learn to like it. That's not a problem.
Every cat has its individual idiosyncrasy very much like us humans. It makes it hard to know what to expect from them in a particular situation. That's very different from dogs.
So, if your cat doesn't like the carrying bag, just make sure that it doesn't hate it. Make your pet feel that it's a safe place. That should do the job for you. In effect, it can make a big difference when you are out for a long trip.
Final Thoughts
There you have it, a list of the best cat carriers for car travels and all sorts of other travels.
I've tried to make the list as versatile as possible to meet a wide range of requirements by various cat owners and lovers.
If you are looking for the best cat carrier for difficult cats, you can also find the right option from the list. There are the smaller models for carrying smaller cats, while the larger ones can accommodate even large sized dogs.
Cats can, in fact, get bigger sometimes– assuming you know Samson, the fattest cat in New York City!
Our largest option can even accommodate him. Again, there are exclusive designs for carrying around two cats simultaneously. You can check that out on the list too.
Nonetheless, cats are adorable and that's why they deserve special treatment. For us cat lovers, we must ensure that they are safe and comfortable in any traveling situation. And a cat bag is the best way to transport a cat.
Make sure you choose the right size and length matching your pet's requirements. It's vital because a lot depends on it. That's all for today.
Happy shopping!
Frequently Askes Question
Question: Can 2 cats travel in one carrier?
Ans: Yes they can, and will need a large cat carrier. But you need to make sure that your carrier has enough space to hold them. Some large cat carriers even come with separate compartments for them using a thin liner as a divider.
Question: Why does my cat sleep in her carrier?
Ans: As we all know, cats love cozy, warm, soft and a cramped space. It makes them feel safe and comfy. If all these are met, they tend to fall asleep in such conditions.
Question: Can you bring cat litter on a plane?
Ans: Yes you can, but you need to carry a portable litter box along with you. You can try the folding litter tray option. This will save you a lot of space.
Question: What is the safest cat carrier?
Ans: If you look at our top-7 cat carrier list, you can find some safe carriers there. We recommend ibiyaya 5-in-1 Pet Carrier to be one of the safest options for its sturdy build quality and carrying options.
SEE MORE:
How to Get an Aggressive Cat into a Carrier?
Best Cat Scratching Post to File Nails Reviews
How to Travel with Cats in a Car Long Distance
How Long Can a Cat Stay in a Crate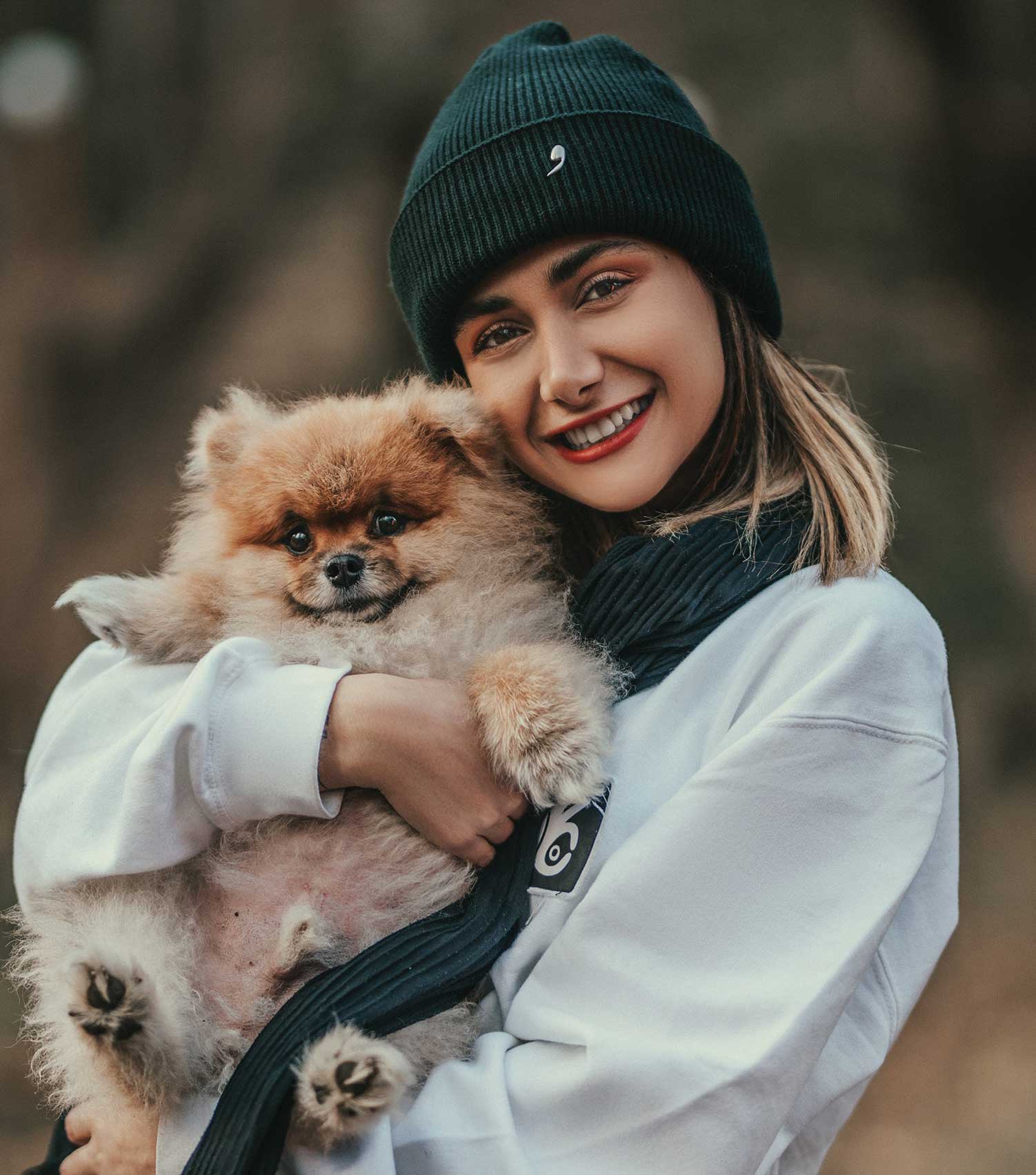 This is Evelin K. Williams. I am passionate about dogs, cats, and love sharing everything. I have Created dog cat talk to talk about my journey. Products that I have used/admire, and lessons that I have learned in my dog cat career.