Pets are like our best friends. You want a puppy to get over your boredom and loneliness, to play with it in your leisure time. And after having one, it becomes nothing less than one of your family members. As a pet parent myself, I know how much attached and affectionate we are to our pets. I feel so miserable when my dog (Mark) got injured or ended up being wounded. I know you feel that too. And giving them pain on purpose is something that we can't even imagine, right?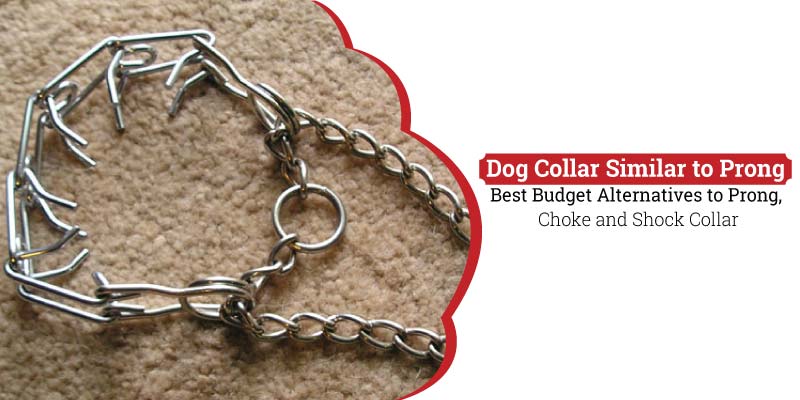 Well, sadly, if you are using equipment like prong collars, choke or shock collars for your dog for the purpose of behavioral management, I'm so sorry to inform you that these accessories are causing pain to your dog every day.
Here come the ever-relieving alternatives to prong collars. These collars are structurally a bit different from prong collars but serve the purpose perfectly. In this blog, I will discuss dog collars similar to prong; even these collars can be used as pure alternatives to prong, choke and shock collars.
Why Do I need Alternatives to Prong, Choke, and Shock Collar?
Prong collars are made of a series of chain with a sharp head that's set against the dog's neck and cause pain and discomfort while walking. Choke chain contains a long metal ring chain and is typically used to correct behavior.
But using it may also cause neck sprain, nerve damage and fainting, tracheal collapse, and so on. Shock collar or commonly known as e-collar, is also a well-known tool for behavioral management. Electricity is passed through it to give a shock, which creates fear in your dog to behave gently. It's a lot more painful than it sounds.
If you are using one of these like me, I'm not going to blame you. Maybe you got the suggestions of using it from somewhere, and you didn't know how it works. I used a prong collar for Mark, and after learning all these, I was devastated.
So, I immediately started to research the alternatives of prong, choke, or shock collars. What did I find?
There are different options like a head collar, head halter, no-pull harness, hand-free leashes, or muzzles that can be used as an alternative to those painful collars. These are all very effective and help you to train your dog efficiently. Now all these tools may not be the best for your puppy. You just have to find the most suitable one from all of these.
Don't feel helpless. With my thorough research, I can give you some insight into finding the right accessory for your puppy. Within a few minutes, you'll be able to understand which one you should buy for your little buddy.
Comparative Analysis of Prong Collar Alternatives 2021
Types of Alternatives to Prong Collars
Back Clipped Harness
Back clipped harness is excellent for calm dogs while taking your pet out for a walk or to train. But if your puppy got any behavioral issues or a little stubborn, I think a back-clipped harness won't be the right one for you.
Front Clipped Harness
This type of collar is used to heal wounded dogs. It reduces the drag pressure of the harness, and the front clip harness is an excellent alternative to prong collars.
Metal Buckle
Dog collars with metal buckle or quick-release clasps are the most demanded ones among pet parents. You can also install a chip in your pet's smart collar, which has multiple functions like GPS tracking, behavior monitoring, etc.
Head Halters
Head halters are more like dog harnesses. They are designed to help in the training period of your pet to walk on a leash. There is an essential fact that I want to mention about head halter. You can't keep your dog unattended while using a head collar or head halter.
Our Top 5 Picks on Dog Collar Similar to Prong
If you have a busy life but too much cautious about your buddy, then you can take a quick look at our top picks. In that section, I will try to be precise on which term the collars are best and try to share real user experiences about a specific product.
Best Overall: Voyager Step-in Air Dog Harness
"This harness is breathable, convenient, and distributes pressure on the neck area with different safety features; comes in seven sizes and different colors."
Best Personalized: Blueberry Pet Essentials Classic Dog Collars
"Personalized and fashionable collar at a reasonable price; made of nylon fabric, highly comfortable, and super easy to wash."
Best for Small Dogs: Halti Head Collar, Head Halter Collar for Dogs
"Comfortable, handy, lightweight, cheaper head halters for dogs; that comes in six sizes and doesn't create any problem in your dog's daily activities."
Best Versatile: Max & Neo Nylon Martingale Collar
"Nylon webbed, flexible and controllable dog collar with an opportunity to feel contented by helping another pooch by making a purchase."
Best Control: Poypet No Pull Dog Harness, Reflective Vest Harness
"Stylish, scratch-resisting, breathable, and super comfy vest harness with five sizes and ten colors."
Analysis and Review of Best Dog Collar Similar to Prong, Choke and Shock Collar
I will detail our top picks on dog collars similar to prong in this part. I will be specific and brief, so hold back until you read out the whole document. I can ensure you that the 5 minutes read will ensure your buddy's ultimate comfort.
1#. Best Overall: Voyager Step-in Air Dog Harness
Remember Mark? He was so sick of prong collars, and I was puzzled, what should I get him! Thank god, I got the complete solution with Voyager Harness.
Firstly, I like it because of its front clip system; Mark was used to it. Also, it has more comprehensive usability, as I can even put it on my cat! The harness is hassle-free and very easy to put on.
As I was looking for a breathable and evenly distributed air mesh on a prong alternative, I was delighted with it. To be exact, Mark felt energetic!
The manufacturer offers a wide range of selections in terms of color and sizes. Seven different sizes are available to choose from XXXS to XL. Variation of color is also available. So you don't have to worry about finding the accurate size; even you can select your favorite color for your little buddy. I picked the blue one for Mark. He looked fabulous in it.
This front-clipped harness for dogs helps to balance the pressure around your pet's neck. So it won't create discomfort to your puppy like leashes. Mark was very snug in it.
The Voyager has installed different safety features like double D-rings, hook and loop fastener, and buckle. These help the harness provide substantial protection and security to your puppy.
Two reflective cord has been attached with the harness, which helps keep your dog visible at dawn and dusk. So if your dog is a little playful like Mark, this is the best front-clipped harness for you like it was for me. I was so assured of Mark's safety and security.
But if your pup has a narrow or triangular head, I would suggest you not to go for it. This is not the best design for him.
2#. Best Personalized: Blueberry Pet Essentials Classic Dog Collars
Blueberry Pet Essentials offers the best-rolled collars for dogs at a reasonable price. If your puppy is long-haired and fluffy, the rolled dog collars are perfect.
On the other hand, if your puppy is furless and smooth, flat dog collars will be the best choice. It's easy to attach your pet's identity in the flat collar for dogs.
You can personalize your pup's collar by color, size, material, design, and harness. What would be the best alternatives to choke collars when you can get your puppy something so comfy and that too designed only for your pup?
A D-ring coated with nickel is attached for the adjustment of the leash. I know you think if you can wash it. Of course, Blueberry Pet Essential dog collars are washable. So you don't always have to be cautious to keep your dog away from the muds and dirt.
The Blueberry Pet Essentials Classic dog collar is made of nylon fabric. The material can appear a little bit slippery to you, and you may need to adjust it now and then.
Suppose you want to make a fashionable outfit according to your dog's personality. In that case, the Blueberry Pet Essential collar is the right one for you.
3#. Best for Small Dogs: Halti Head Collar, Head Halter Collar for Dogs
Halti supplies the world's first no pull dog head halter collars: light weight, user-friendly, comfortable, and cheap head halter for dogs.
The nose strap of the head halter is fully padded, which will secure your pup from creating any discomfort. I know the dog becomes annoyed if it faces any dissatisfaction.
Nylon fiber is used as the collar's material. The head halter is available in six different sizes. So you can purchase according to your pet's size.
Unlike a prong collar, no metal part is directly attached to your dog's skin in a head halter. The pup can be directed gently down from the nose area, which is far away from your dog's eyes.
The design of the Halti head halter is set in such a way that it doesn't create any trouble in your dog's eating, drinking, panting, and yawning. As a pet parent, I know how important it is for the canine.
The receptive structure of the head halter helps to make the training of your puppy smooth and efficient. You can also easily take your pet's control. Though you may have to readjust the neck strap every time you put it on your dog.
Head halters for small dogs are more popular than head halters for large dogs as it makes the training period less challenging. So if you have an adorable but stubborn puppy, the Halti is the best head halter for you.
4#. Best Versatile: Max & Neo Nylon Martingale Collar
You walk with your pup every afternoon in the park. One day, you saw that your little buddy is trying to attack some stranger in the garden all of a sudden. You can't even pull your dog firmly because the quality of the collar is not so good, and it'll cause pain to your puppy.
On the other hand, you can't just let this happen to someone, even if he/she is a stranger. Now, what should you do to get rid of further embarrassment or accidents?
Unfortunately, it happened with my brother. So, he researched and bought a Max and Neo martingale collar for Rex (My brother's dog) as the best solution.
You can choose the best martingale collar for your pup according to its behavior and personality. The martingale collar has the flexibility to adjust up to 23 inches. It is 1-inch in width, so finding out the right size won't be a problem. Rex was okay with the extent that my brother bought.
The collar is nylon webbed and perfect for roaming around at night. The lockable nylon buckle ensures security even if the latch accidentally got released. If you want to take your puppy's control without making it choke, a martingale collar is the best fit for you. No incident like that happened again with my brother.
Sometimes the collar may appear dirty because of the faded portion of coating of the metal pieces. If you choose a dark color, you won't face such a problem.
The most exciting fact about purchasing Max and Neo martingale collar is that they donate a collar for a dog's rescue for each purchase. So, if you are thinking of getting a martingale collar for your dog, it will benefit you a lot.
How?
You'll be able to make two little puppies happy at a time. Isn't it great?
5#.Best Control: Poypet No Pull Dog Harness, Reflective Vest Harness (dog harness with front and back clip, back clip dog harness, back clip harness)
If you want to doll up your little furry friend with a cozy vibe, then Poypet no pull dog harness is the one you are looking for. Puppies look so cute when they wear a vest that matches their personality.
The outer part of the vest is abrasion resistant, so you don't have to worry while washing. You can even go walking or jogging with your puppy as the vest is easily breathable and super comfortable for your pet. It is designed to provide maximum proficiency at a minimum price.
The vest harness is accessible in five different sizes and ten unique colors. You can pick your favorite color or the color that suits your little pup. I think it's imperative to choose the right color.
The belly cord of the vest is structured with elastic so that it can extend up to your puppy's needs. The dog harness comes with both front and back clips.
The front clip is used to prevent pulling, and the back clip of the harness helps your dog move smoothly. The back clip dog harness is quite rare in the market. So you'll get an extra advantage out of it.
Buying Guide: How do you choose the best alternative to prong, choke and shock collars for your dog?
So far, you got to know that a prong, choke, or shock collar won't be the best option for your dog. You also gained knowledge about some dog collar alternatives. Now you may be puzzled that how to choose the best alternatives for your pet. Don't worry. I got that covered too.
Here are some guidelines that you need to follow before purchasing an alternative to prong, choke or shock collar.
Truly the Best Dog collar similar to prong?
As you can see, a couple of options are there as an alternative to the dog's chain. But which one should you choose for your little furry friend? Firstly, you have to understand your needs. For what purpose do you feel the need for these accessories?
Dog collars are the best 24/7. They are easy to pull, carry, and take on and off. If your dog is a little bit mischievous and wants to put an identity tag on it, I would recommend you to go for a dog collar.
Suppose you occasionally go for walking, jogging, training and visiting the vet. In that case, you can have a head halter or dog harness. They are pretty helpful in taking control of your puppy. But for everyday use, they won't be the best options.
Choose the one you think your puppy needs the most.
Perfect Size & Color: A Must for Alternatives to Prong Collars
To find out the ideal size of collar for your dog may seem like an easy task, but it's not!
If you want to buy a collar for your dog, taking the neck measurement is enough. But if you are willing to buy a harness for your pet, you have to measure both the neck and chest.
When I made a harness purchase for Mark, I measured his neck and chest and ordered the closest size. After getting the product, I understood that ordering the exact size of his body was a mistake. If the harness's size is the same as its neck and chest, it creates difficulty in breathing, eating, and even moving. Mark felt suffocated!
So the right size will be two inches more than your pet's neck and chest measurement. If you can fit your two fingers underneath your pup's neck, then the size is okay. Luckily, I got to exchange my product and got the right size of harness for Mark.
You can pick a solid one that goes with your dog's personality in terms of choosing a color.
Construction Materials of Prong Collar Alternatives
As you find an alternative of prong or choke chain, you may want to give a lot more importance to choosing the suitable material for your dog.
Nylon, leather, faux leather, bio thane are some collar materials available in the market.
Nylon dog collars or harnesses are the most popular among pet parents. It comes with a huge variation of size, color, design, and qualities. They are the most convenient at a very reasonable price. You'll get a lot of options for your pup, and that too within your budget!
Leather dog collars are the classic ones. They have both rolled and flat collars. So you can choose according to your dog's immensity. Though leather collars are a little bit expensive, they have the highest durability.
Does your pet love water? Well, then bio thane collars are especially for you. Dogs who are pretty wild and playful, bio thane collars will be the best fit for them.
Design
There is a considerable variation in the design and structure of these dog's accessories. You have to choose one among them that's best for your pup.
The vest harness for the dog comes with a front and back clip and makes it handier.
On the contrary, some dogs can't adapt themselves to front and back clipped harness. The clipped front harness helps to distribute the pressure around your pet's neck. Mark was very comfortable with it.
Durability:
You got all the ideas about the dog's accessories. But you are confused about how the durability is or if it is worth the money. Let me help you from my personal experience.
Suppose you are an owner of a little puppy and planning to buy a collar for a minimum 2-3 years of durability. In that case, you have a wrong conception.
Remember my brother's dog's Rex? When that martingale collar was bought for him, it was just the perfect size. But after a couple of months, Rex was no more comfortable in it. So my brother had to buy a large one for Rex.
Did you get the point? The durability doesn't matter for your puppy. They grow so fast! You better think about the size of your pup's neck. I'm not joking. Measure your puppy's neck every two weeks and keep track. If you can't slide your two fingers underneath the collar, you need to understand that it's high time to buy a new one.
In general, a leather collar has more durability and can last for years.
Style
After checking all the factors to buy an accessory for your pet, you may also want to check if it goes with your pet's style matches its personality. Because at the end of the day, you want him to look adorable in his new outfit. Try to imagine every option with your pup and the one that'll balance both the needs and style, that's the one you are looking for.
Frequently Asked Questions
What is the best alternative to choke collar and shock collar?
To be exact, the prong alternatives can be used as choke collar and shock collar alternatives. We have suggested these alternatives of prong collars in this article are one of the best collars of all time.
Are the dog collars similar to prong, durable, and comfortable?
These collars are super comfortable. I think the Alternatives to Prong, Choke, and Shock Collars are the best choice for any dog, either it's wounded or not.
Conclusion
I appreciate you for coming this far with me. If my share of knowledge helps you pick the right accessory for your dog, that would be my pleasure. Actually, it's not that of hard work.
You have to research a lot to pick the right dog collar similar to prong for your pet as there are many options as an alternative to prong or choke chain. And I've covered everything that you need to know through my experiences.
So, if you have gone through the whole content, congratulations! You're ready to buy the most suitable accessory for your little furry friend.
Don't forget to share the article with your other pet-loving friends. Help them to pick their suitable accessory too.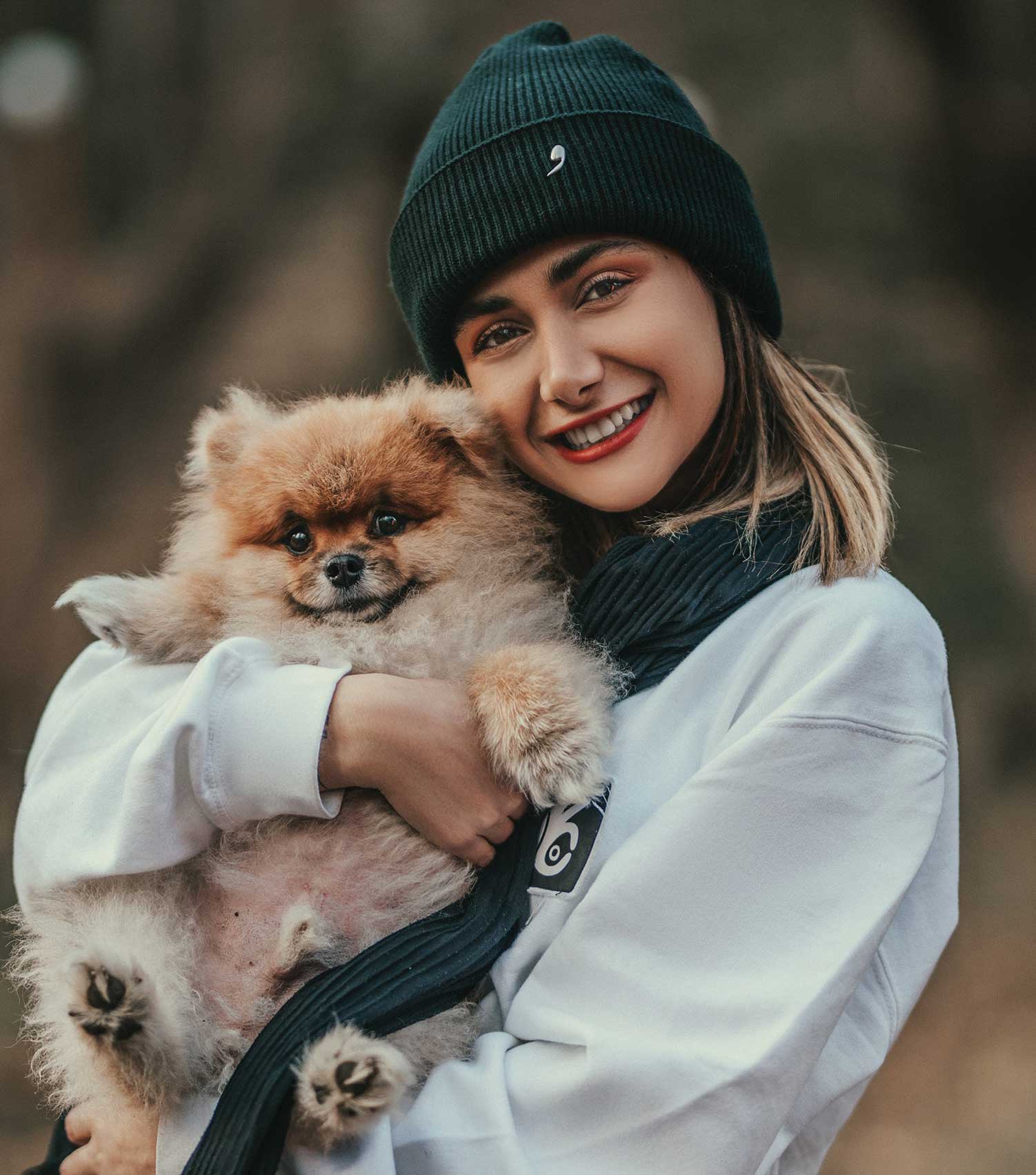 This is Evelin K. Williams. I am passionate about dogs, cats, and love sharing everything. I have Created dog cat talk to talk about my journey. Products that I have used/admire, and lessons that I have learned in my dog cat career.