Suppose your dog bed is made of orthopedic or memory foam and a metal fabric, chances are. In that case, it has to stuff inside, such as polyester. To keep your dog bed clean and fresh, it is important to know how to wash a dog bed with stuffing?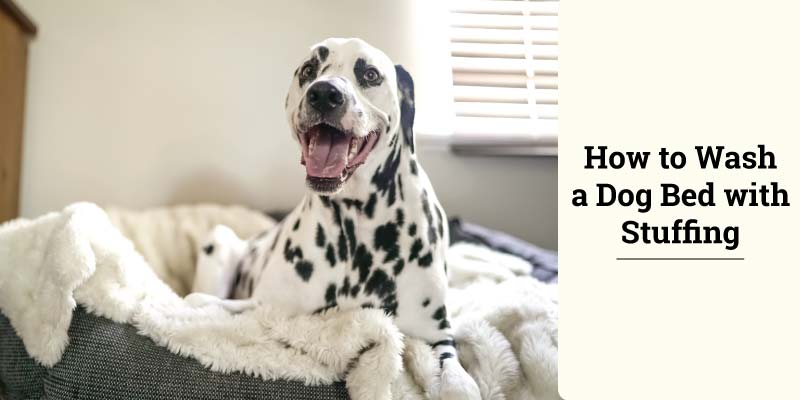 Washing a dog bed can sometimes difficult but this is something that can not be overlooked. Dog beds can become repositories for organisms that are harmful not only to your dog's health but to you as well. Washing a dog bed is an important thing that most people who own dogs forget.
Additionally, I will suggest my top three picks on the best washable dog beds with stuffing just before the FAQ section.
How to Wash a Dog Bed with Stuffing
Can you wash stuffing?
Ans: Yes, you can wash dog beds with stuffing. There are different types of stuffed dog beds. Most of them are washable. Let's explain more about washable dog beds.
Can I wash Pillow Stuffing?
Pillow stuffing is a kind of memory foam that is an integral part of a washable dog bed. So, the pillow stuffing is machine washable and machine dryable as well.
Can I wash Cotton stuffing?
It depends on the type of cotton that is used in the bed. Most of the cotton beds are washable. But you might seem a bit shrinkage after multiple washes. That's why you need to choose the best dog beds with stuffing very wisely. Don't forget to check my top picks on the best washable dog beds with stuffing. Coming up Later!
Pre-requisite of Washing Dog Beds
Many people think it is unnecessary to wash a dog bed, but it is as important as feeding your dog. Your dog also deserves clean bedding, just like you. Let's delve deeper and stay with me to watch out every step closely.
Important Tips
First, check out the bed thoroughly for any ruptures or weaknesses. If you find one, fix them first before washing unless the stuffing inside the bed can clog the drainage system.
If you have a bed cover of the dog's bed, you need to wash it separately. You will find necessary washing instruction on the lever of the cover. It is always recommended to use pet safe detergent along with hot water to wash the cover. Natural drying is the best process of drying as it involves no risk of damaging internal structures.
Close all the zippers of the bed. This precautionary measure will save inner stuffing and also, zippers will remain intact.
Now, let me ask, what is your drying plan? Planning to dry it naturally, then no need to worry about anything. If you use a dryer, then be careful about the heating materials of the dog bed. To protect the heating element, assure free tumbling off the bed while drying.
How Often Should I Wash My Dog's Bed?
Before cleaning any dog bed, first, check the materials used to make the bed. Pooch beds are not made equivalent, and some canine beds are simpler to clean than others are. Most dog beds that have to stuff have un-detachable covers. In case your dog's bed has an irremovable bed cover, then washing it once a week is best if the dog sleeps daily on the bed. Wash two times every week if your pooch is active or is always outdoors. These types of beds are made in a way that they can withstand regular cleaning.
Step by Step Guide on How to Wash a Dog Bed with Stuffing
Now, you may ask what the essential cleaning ingredients are? I'm also suggesting the which one will be the best for washing dog bed with or without stuffing.
Before You Begin You will need
Clean Up Loose Dirt from Dog Bed
You can use a broom, vacuum cleaner or brush to clean the loose dirt from the bed. It is the crucial step and makes sure that all hair and unnecessary substances are effectively removed, repeat the step twice to be cleaner. When vacuum cleaning emphasizes the corners and edges, these are critical places where flea eggs and patches of dirt accumulate most.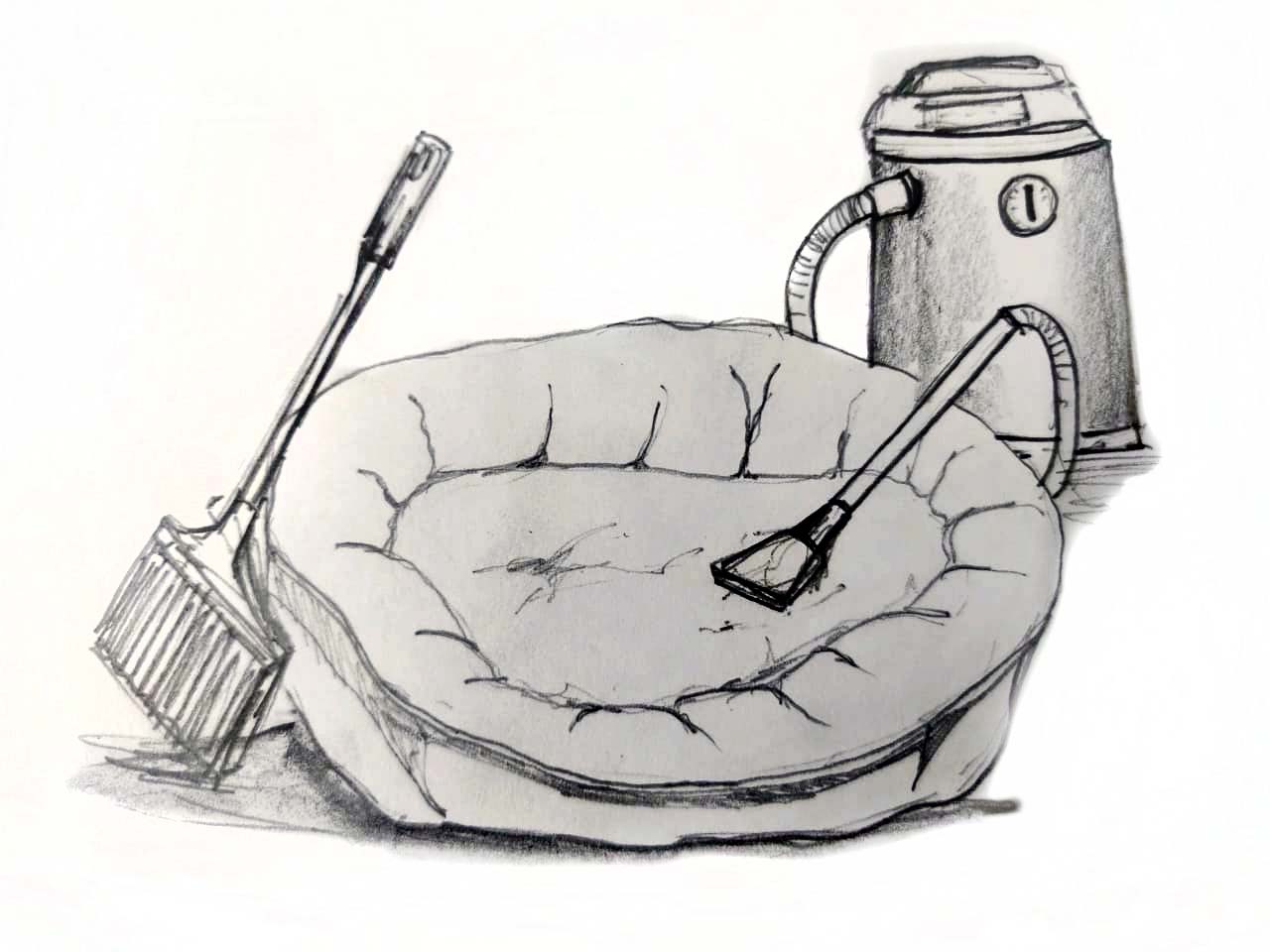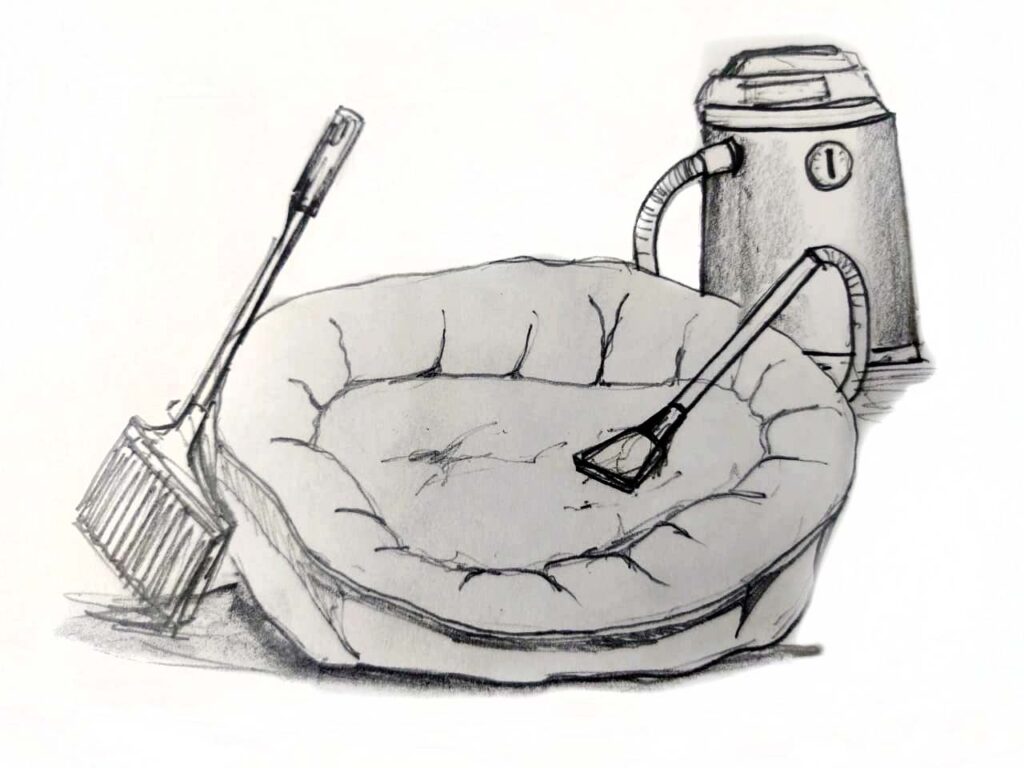 Remove Stains from Dog Bed With Pet Safe Detergents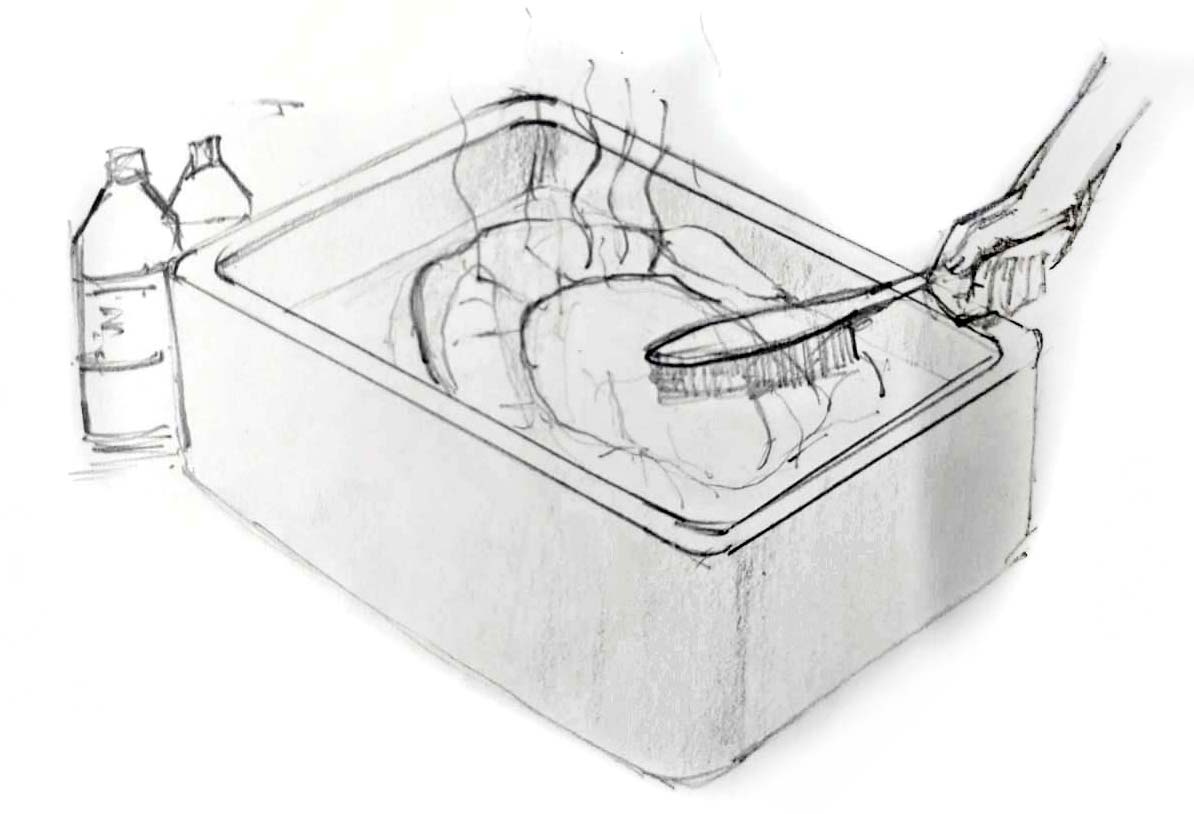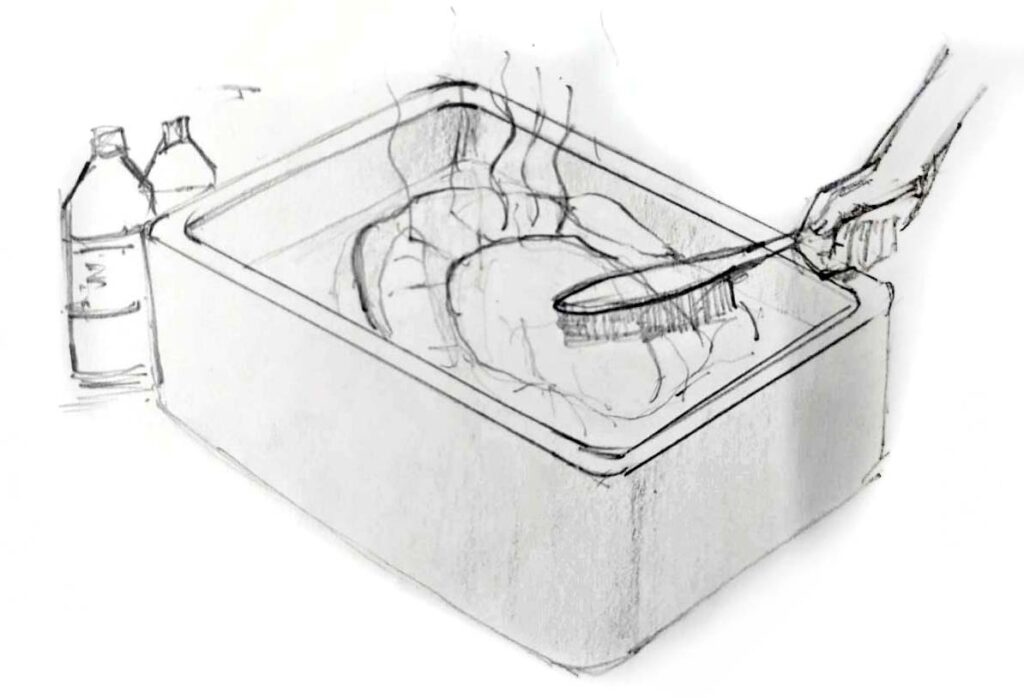 Remove all the stains on the bed using a safe spot stain remover or detergent. When done, wash the dog bed thoroughly and compress out an excessive amount of water.
After getting rid of any stain and dirt from your pooch's bed, go through the guidelines on the bed's tag to be certain that you follow the right washing strategy. You can use a washing machine or let the laundry handle on your behalf. If the bed is too big to handle, it is always recommended to take professional help.
Drying Out the Dog Bed
After squeezing out water from the bed, you can use a drying rack to dry it, or if you own a sumo dryer, you can use it. To make sure that your dog bed dries completely, place it under the natural sunlight for approximately one or two days depending on the weather.
Inspect the thick places to confirm if they are still damp. Use a hairdryer on moderate heat to dry the thicker areas if they are still holding moisture.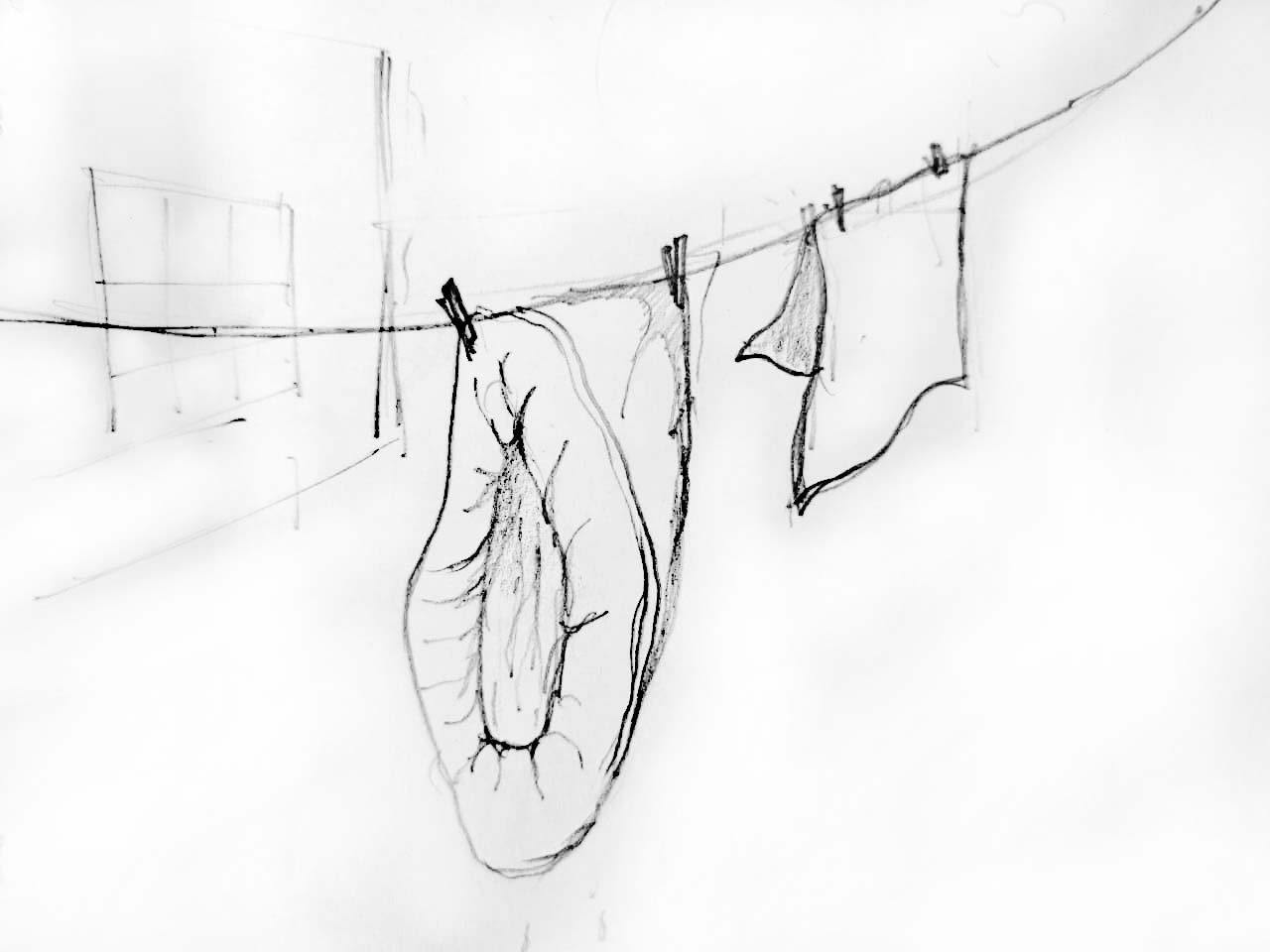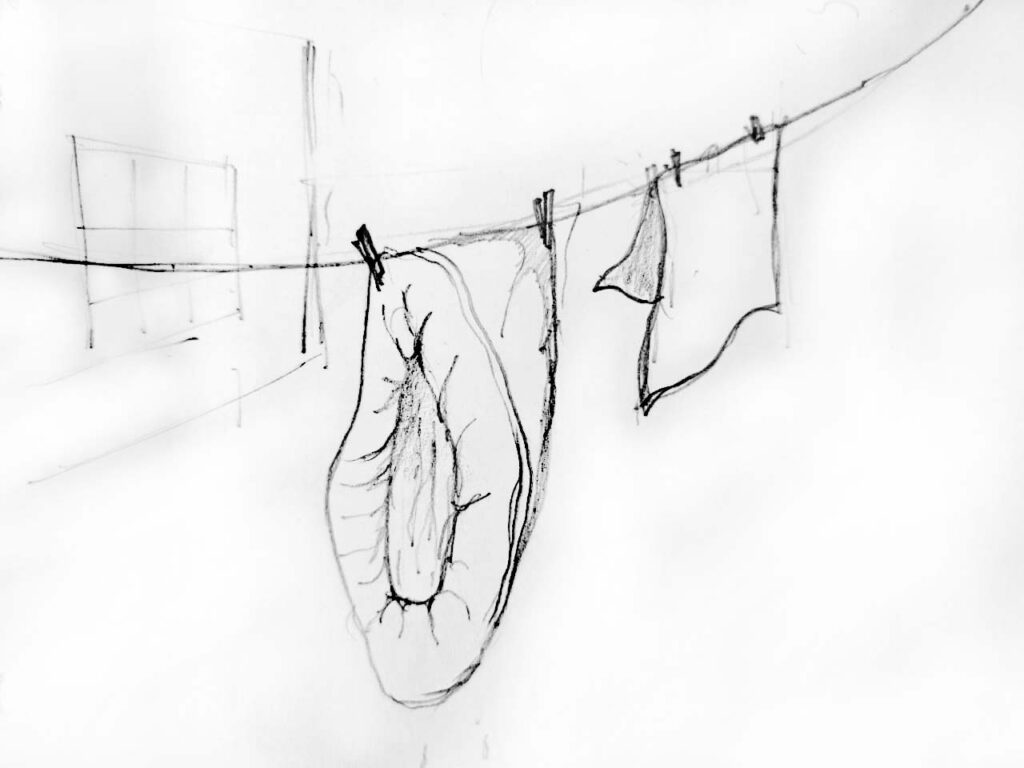 Fluff the Dog Bed
Pull the bed materials smoothly to chunk it and fuzz it once your dog bed is completely dry. Make sure to transfer the stuffing materials into a place that is leveled so that your canine has a decent, smooth bed once more.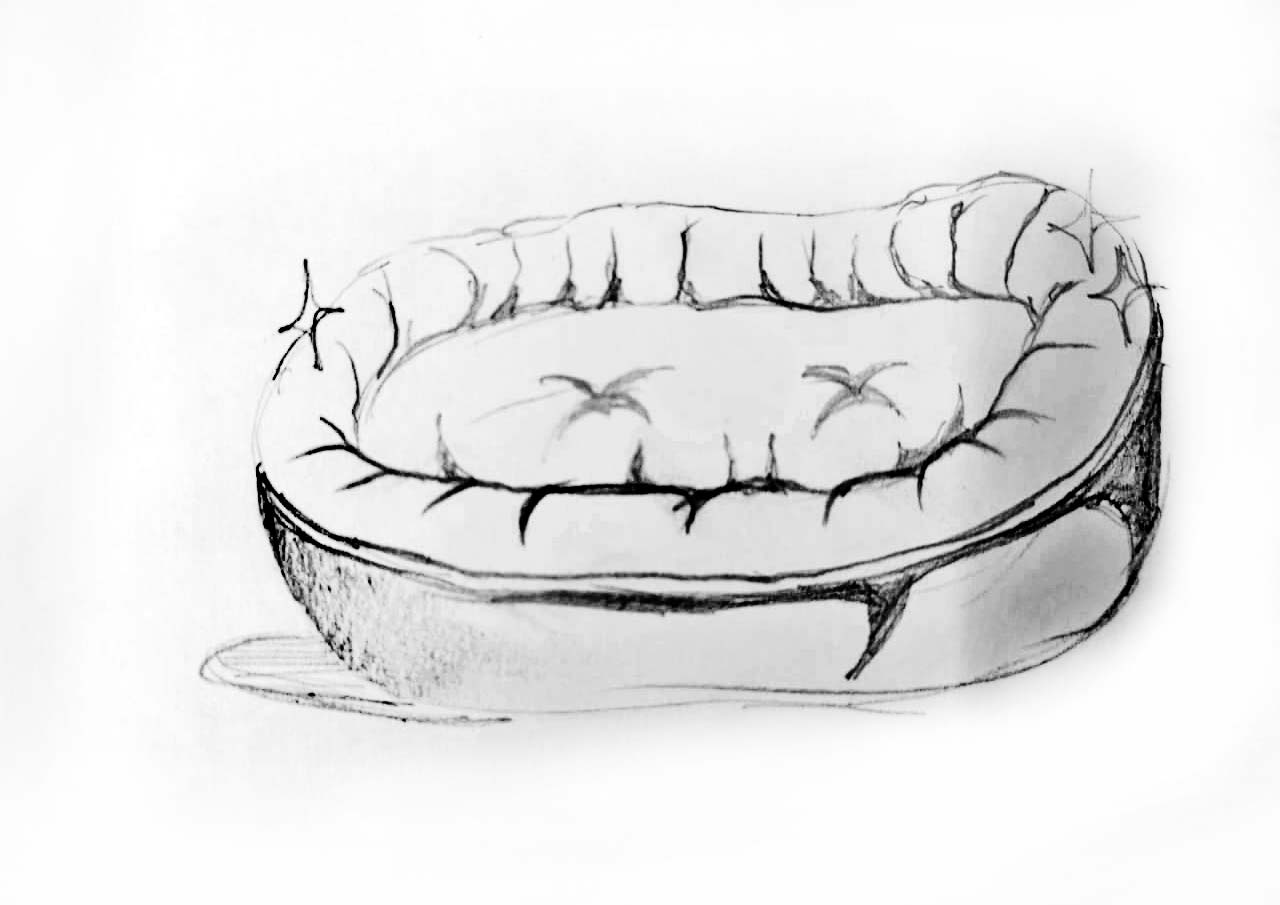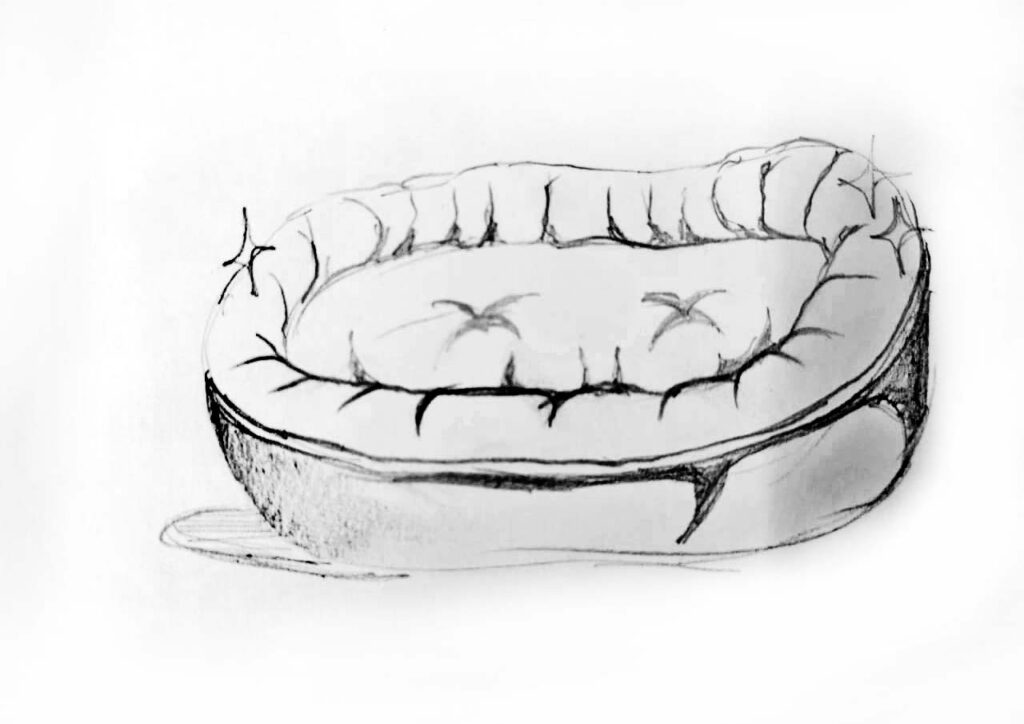 How Do You Wash Dog Beds Without a Removable Cover? The Step-by-Step Guide
Washing dog beds without a removable cover can be tricky if you don't have the right tools. I will guide you through the overall process and give you an idea about tools requirements. With pretty simple steps you can get rid of dirt, virus, bacteria, and pathogens.
Now, follow the simple steps to know how to wash a dog bed without removable bed covers.
Step One: The first step is to clean the bed with a vacuum cleaner. The vacuum force will run through the bed and remove all loose dirt, loose hair and other stuff. Some guide may advise you to use a hair removal tool, but it's totally unnecessary. You can use a lint roller; it's a better choice than removal tools. If you want to reduce the load of machine wash, it's obvious to dry clean the bed first.
Step Two: Before moving to the next step, be sure you have gotten rid of loose debris, dirt, and dog hair. Because if you don't clean the bed first, it will be difficult to remove stains from the wet surface after washing.
Step Three: The choice of detergent is the most important factor in this bed cleaning process. Regular detergent is not a good option for washing beds full of stains. Here are the essential tips. Use stain removers those are specially formulated to remove stubborn dog and cat stain. Usual stain removers may contain hard chemicals that are harmful to the bed.
Tips 1: Now, I will describe how can you get rid of stains through stain removers. Pour stain remover onto the stains and rest for 5 min. Now, you will need to pre-soak the bed into warm water and mild detergent. The use of warm water and detergent will enhance the activity of detergent and kill the pathogenic microorganism. Once again, the selection of detergent is very crucial. Always use mild soap or detergents.
Tips 2: Here I'm giving you a shortlist of chemicals you need to avoid. Phthalates, Bleach, isopropyl alcohol, methyl alcohol, formaldehyde, diethanolamine, acetone, chlorines and phenols.
Step 4: So, hopefully, you have got the pet-friendly detergent. Now, you need to fill a bucket with warm water. Now, put the dirt and dust-free dog bed inside the water. You need to make sure the bed is adequately sunk or submerged into the warm water. Let the duration be 15-30 minutes.
Step Five: Now, drain out the water after 15-30 min. Fill the washer with warm water again and incorporate detergent. Put the bed into the detergent water and leave for five minutes or so. Next, drain out wastewater and rinse the bed with normal water to get rid of detergent residues.
Step Six: The drying process is simple. Squeeze out all the water from the bed and let the bed allow drying naturally.
If you want to use a washing machine to clean the bed, read the user manual on washing the bed with a washing machine. It's always advisable to use a gentle wash cycle to clean the dog bed.
Will Dog Hair Ruin a Washing Machine?
In general, washing machines are prone to clogging. That's why we always clean the loose dirt before putting anything into a washing machine. Hair, regardless of its dogs, cats, or humans, is the major clogging agent of washing machine tubes. So, It is highly advisable not to put a dog bed without cleaning the hair.
What Is the Best Washable Dog Bed?
Look, from my perspective, choosing the best washable dog bed to ease the later washing process or maintenance. If you choose the dog bed with stuffing smartly, the maintenance and washing process will be simpler than ever. Now, I will recommend the three best washable dog bed with stuffing.
Furhaven L Shaped Orthopedic Washable Dog bed
large dogs, also provides orthopedic support, highly comfortable with backrest and most importantly, easily washable. I'm currently using this dog bed for my new dog Mark. I bought it at a 20% discounted price. I don't know it's still available or not. You can always check the link. Importantly, it's a great deal.
This is the current price of these Furhaven L Shaped Orthopedic Washable Dog bed available at Amazon (affiliate link takes you to Amazon.com)
BedSure Orthopedic, Removable and washable Bed for Cats and Dogs:
It's a tremendous washable bed for medium-sized dogs. It's lightweight, super easy to wash, detergent safe, contains no allergen, and comes at a reasonable price. On Amazon, you will get 10% discount (It's a usual offer, check the link if it's still valid or not) .
This is the current price of these FBedSure Orthopedic, Removable and washable Bed for Cats and Dogs available at Amazon (affiliate link takes you to Amazon.com).
MidWest Homes Pets Washable bed
I would say, this is the cheapest washable dog bed you will ever find in the market. It's a highly comfortable, ultra-plush, machine washable and dryer friendly dog bed. Back in 2016, I used this bed; It's really awesome. As I have more dogs and cats now, I switched to the bed I have mentioned on the top.
This is the current price of these BedSure Orthopedic, Removable and washable Bed for Cats and Dogs available at Amazon (affiliate link takes you to Amazon.com)
Frequently Asked Questions
#Q1. Why Wash the dog bed?
Ans: Regular bed cleaning is of utmost importance. I can state a hundred reasons for the importance of routine cleaning of the dog bed. But I will share some magnet points to the significance of deep cleaning the dog bed.
Firstly, it will keep the dog healthier and free from bacterial or viral infection.
Increase the food appetite of the dog.
It will reduce the frequent visit requirement to a vet.
As the dog is your best buddy, your health will also depend on its cleaning & wellbeing.
Routine cleaning by maintaining proper cleaning instructions will enhance the longevity of the bed.
#Q2. Can you wash a dog bed?
Ans: Yes, you can wash a dog bed. Most of the dog beds have removable outer covers. So, it's pretty simple to remove the bed covers and clean it by washing machine. Even the bed covers are washable by a washing machine.
Even those beds don't use covers; the vacuum hose can release air fluff and be easily cleaned.
FINAL WORD
Even though it might appear simple, many dog owners are not sure on how to wash a dog bed with stuffing. Indeed, by following these guidelines above, your canine's bed will become clean like brand new in a matter of seconds.
Providing your dog with a clean and sound sleeping environment is essential and the best favors you can do for your dog. If you want to know more about dog bed and dog-related products, then you are in the right place. Our website will provide you with all the information regarding dog products.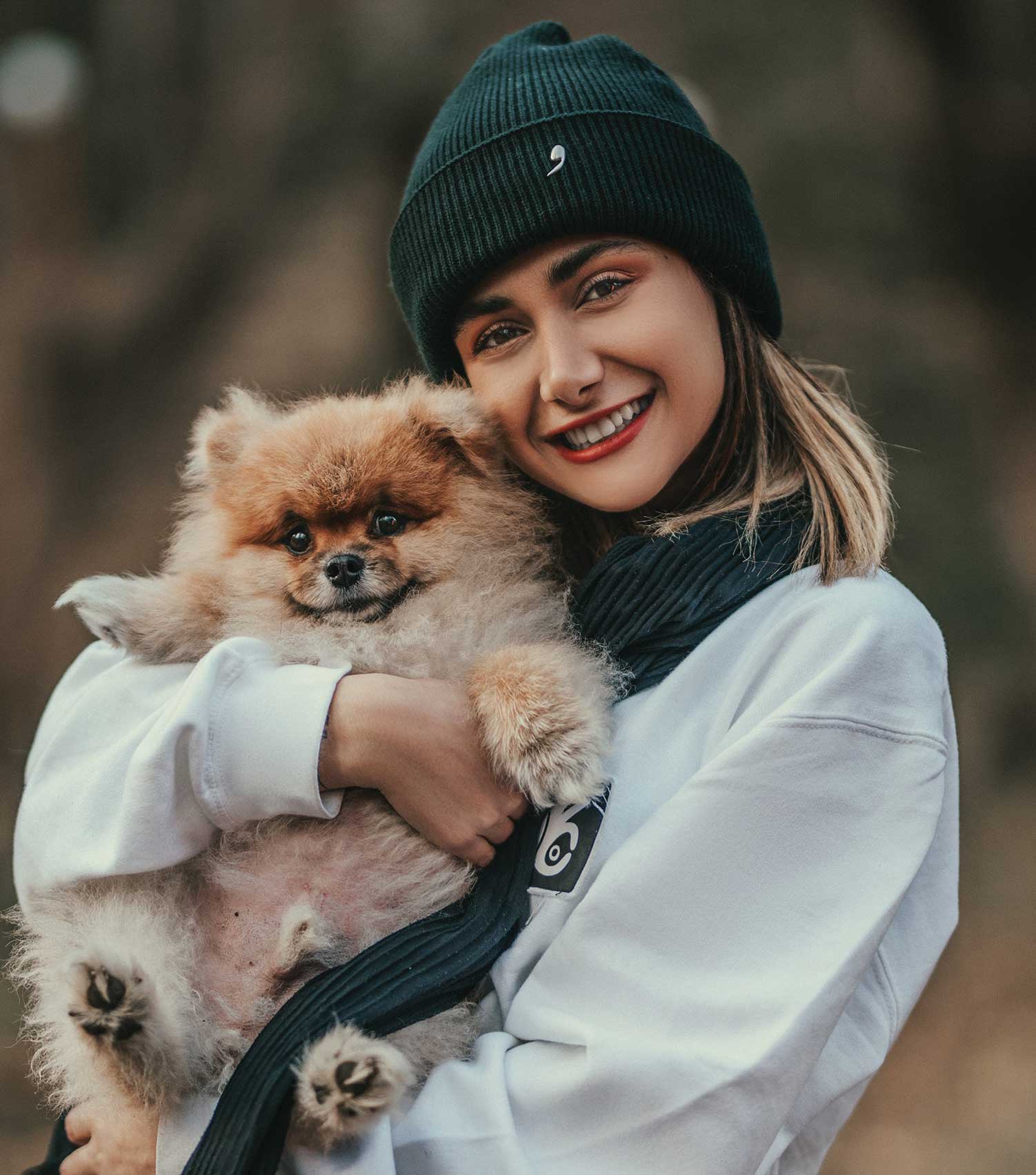 This is Evelin K. Williams. I am passionate about dogs, cats, and love sharing everything. I have Created dog cat talk to talk about my journey. Products that I have used/admire, and lessons that I have learned in my dog cat career.