As much as we love our dogs, there's no denying that their personal hygiene could use a little work now and again! Even if your pooch is regularly cleaned and groomed, it's normal to find yourself holding your nose and turning to the internet to look at how to wash a dog bed with stuffing.
The good news is, the Dog Cat Talk team have tackled some stinky stuffed dog beds over the years – so we know a thing or two about keeping them clean!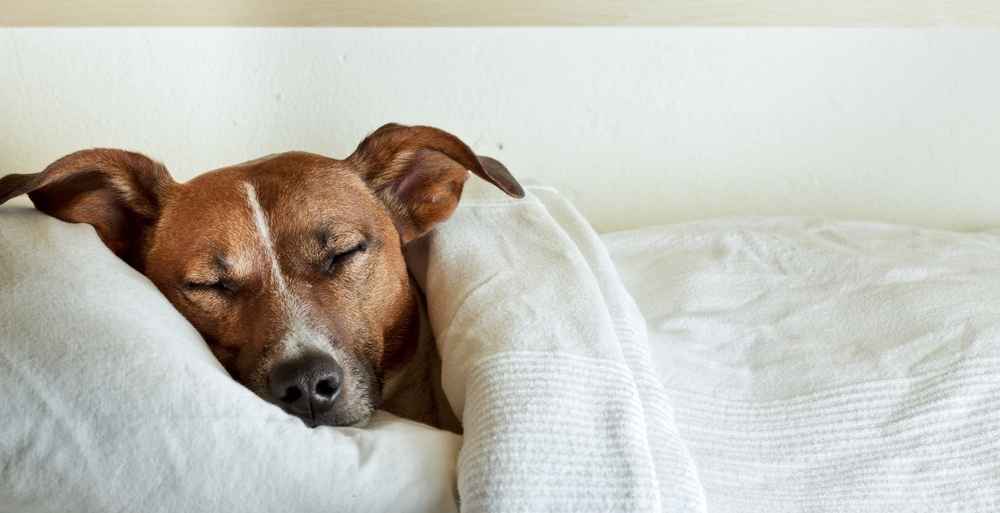 In this blog post, we'll walk you through everything you need to know about washing dog beds – including the different kinds of stuffed beds, which setting to use on your washing machine, and what to do with the stuffing inside the bed.
(We'll also give you our top three picks for what we think are the best washable dog beds too – in case it's time for a new one!)
How often should I wash my dogs bed?
If you want to jump ahead and just find washing instructions, hop straight down to the Dog Cat Talk Masterclass section for a detailed explanation. However, if you'd like to know a little more about why dog beds should be washed, read on!
Should you wash dog beds?
In short, yes, there are a few reasons that washing a dog's bed is a good idea.
It's understandable if you think a dog bed should be left with it's 'natural' smell – but as much as your four-legged friend might like his or her own scent, it's actually good for their health to keep it smelling fresh.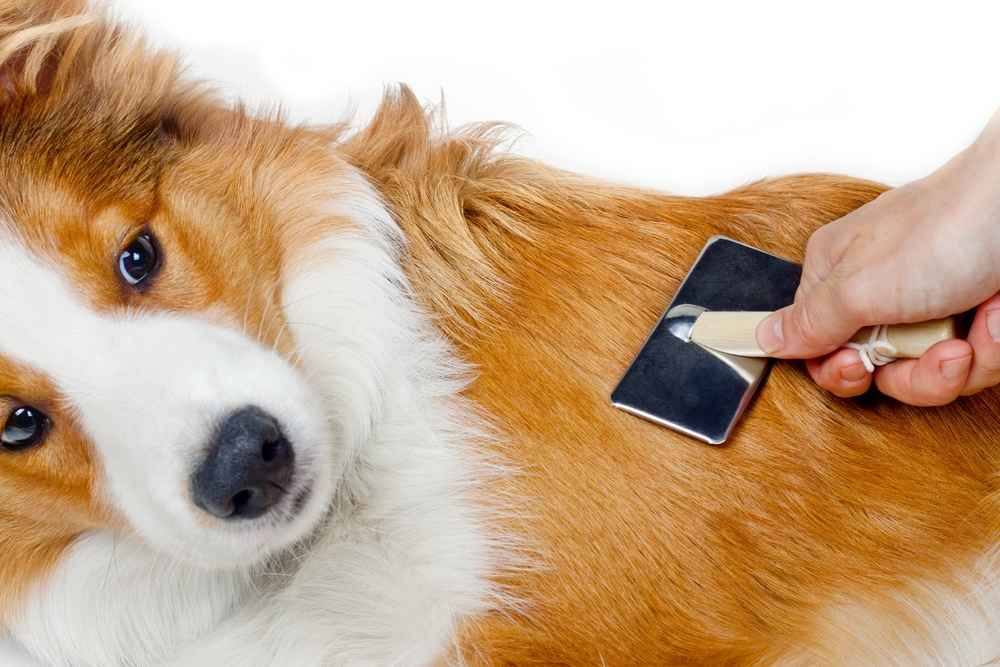 The thing is, our pups often shed their fur. If they live outside, this loose hair, fur and dander (microscopic flecks of skin) will just blow away – but inside your home, it's generally got nowhere to go. Often, it's this dropped hair and dander that causes allergies for the humans in the house, and having too much around can upset your dog's sensitive nose too.
Try not to worry about washing your dog's natural smell away. A dog's nose is thought to be around 1,000 times more sensitive than ours – so no matter how much fabric softener or deodorizer you use, they'll still know it's theirs!
Washing their bed will keeping your dog healthy
Generally speaking, any unpleasant smell on fabrics is down to a build up of bacteria. The bacteria in a pair of smelly socks is down to the warm and damp conditions – whereas the smelly bacteria on a dogs bed is more likely down to the natural oils, fur, skin debris, and loose dirt that comes off your dog.
When you wash a dog bed, you remove virtually all of these bacteria breeding grounds – and, as a result, your dog is far less likely to pick up any skin irritations or infections in nicks or scratches.
Washing will help get rid of parasites from the dog bed
If you dog is easily embarrassed you might want to cover his or her ears for this next bit.
Even clean healthy dogs frequently pick up unwanted guests. We're talking fleas, ticks, lice, and other assorted nasties – for whom a short break in your beloved pooch's fur has the same level of luxury as a 5-star hotel for us.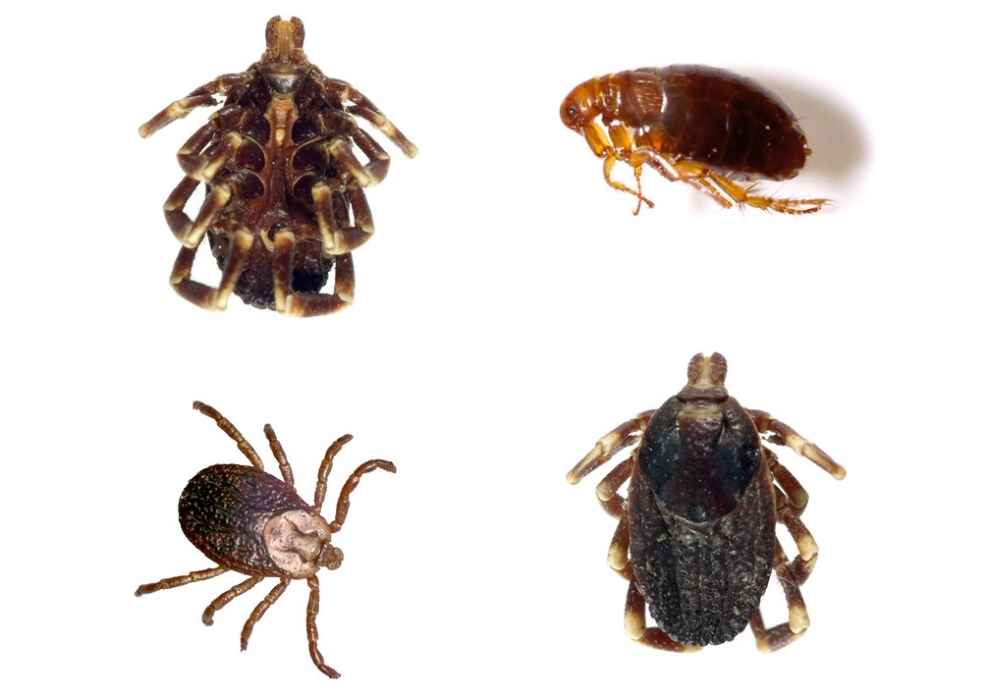 Parasites like these can make life very uncomfortable for your dog. They will often cause your dog to scratch uncontrollably (sometimes breaking the skin or causing irritation) – and in the worst case, they can carry diseases that can be harmful or even fatal for your dog and the humans in your house.
Washing your dog's bed won't completely guarantee that these parasites don't hang around (you'll need a good flea/tick treatment to be sure), but it's an important part of making sure you get rid of any flea eggs or bugs that have dropped off or laid eggs nearby.
The Dog Cat Talk Masterclass: 3 Simple Ways to Wash a Dog Bed with Stuffing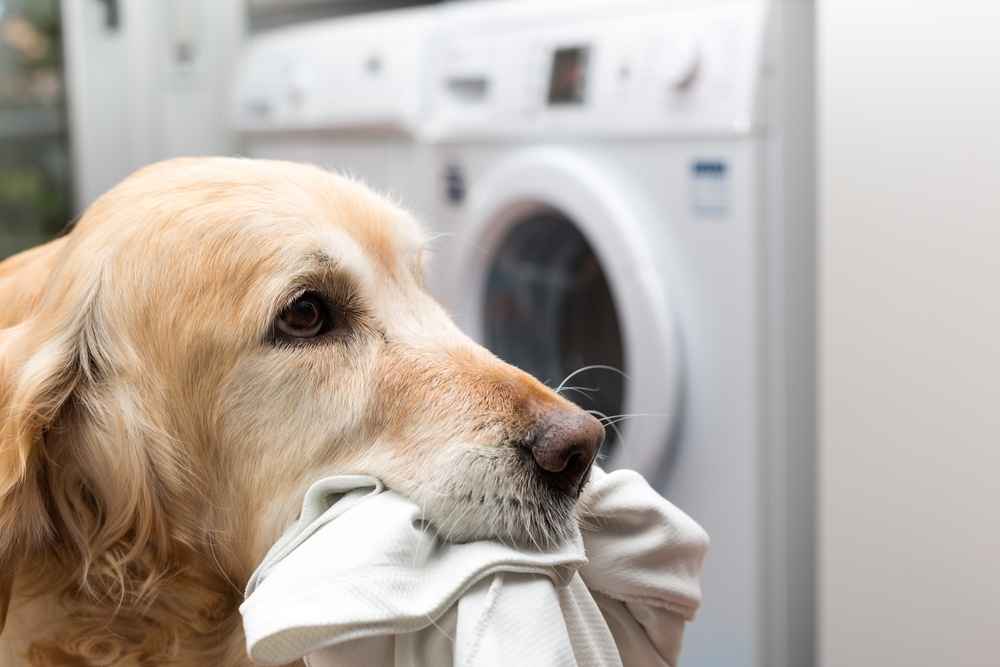 Okay! Now we've covered the health issues, it's time to wash that bed. The next part just involves choosing the method that's best suited to the type of bed you own.
Each of the following methods will suit different (or missing) manufacturer instructions.
Method 1: Remove loose debris and spot wash
(Best for stuffed beds that manufacturers say should not be put in a washing machine or fully submerged)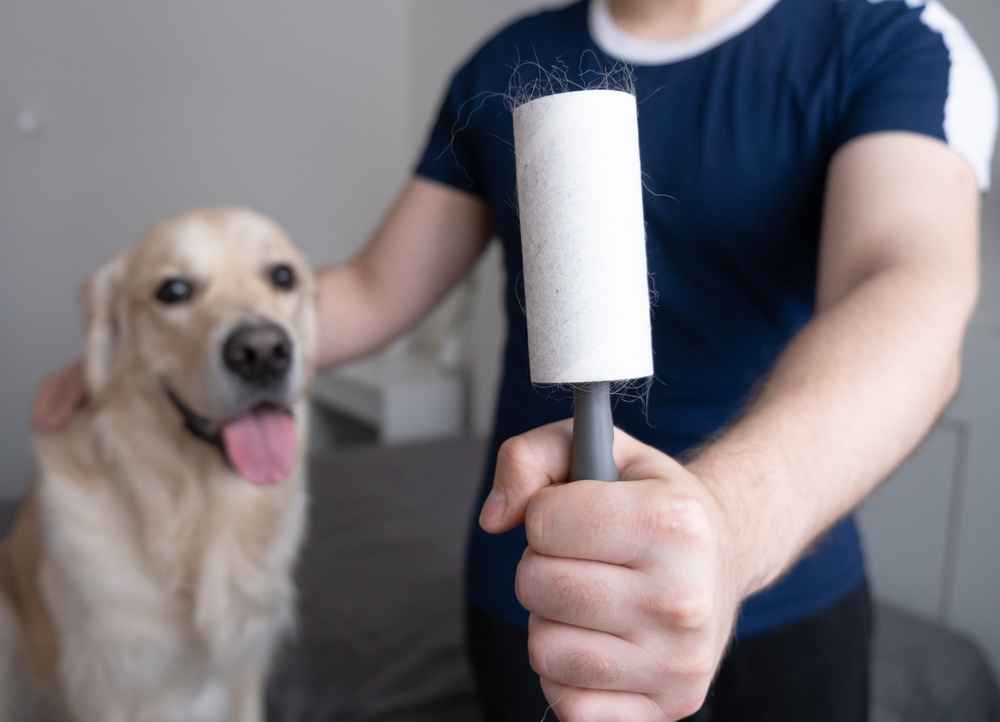 If you're not sure that your dog bed is suitable for a machine or full hand wash, you can do a great job of cleaning it without submerging it in water.
Take a look at the things you'll need and what you'll need to check before you start.
What you'll need
Vacuum cleaner
A lint roller
A firm brush for loose dirt
Clean cloths or disposable kitchen towels
A pet-safe spot stain remover product or mild detergent
Fresh clean warm water
What you should check
Make sure there are no frays or weak spots that you'll damage when you apply pressure with the cleaning brush or will become tangled in the vacuum.
Patch test any cleaning products on the bed in line with manufacturers instructions before applying them more widely.
Cleaning process: How to get a nice and clean bed without soaking or submerging
Start by using the lint roller to remove as much excess hair and debris as possible.
With most of the loose dirt and dog hair gone, use the vacuum to throughly remove any smaller particles from your dogs bed. If possible, use narrow heads to get into all the creases and corners of the dog bed.
Now start dealing with individual stains or dirty patches. A firm, dry brush will help to lift any heavy soiling first, then you should wet the stain with a mix of water and cleaning fluid.
After letting the cleaning product soak for 2-3 minutes, blot the stain with a clean cloth or kitchen towel roll. If you can apply pressure to the stain against a firm surface, you'll find that the absorbent cloth sucks a lot of the stain out of the fabric.
Repeat step 4 until stains have lifted or faded.
Allow the dog bed to dry – ideally in the sun or safely on a radiator or near (but not on) an internal heater.
This method takes a little longer than using a washing machine – but the results will be good if you keep going until stains and mucky marks are removed from the whole bed.
Method 2: Wash inner and outer separately
(Best for washable dog beds with a removable stuffing inner and removable covers)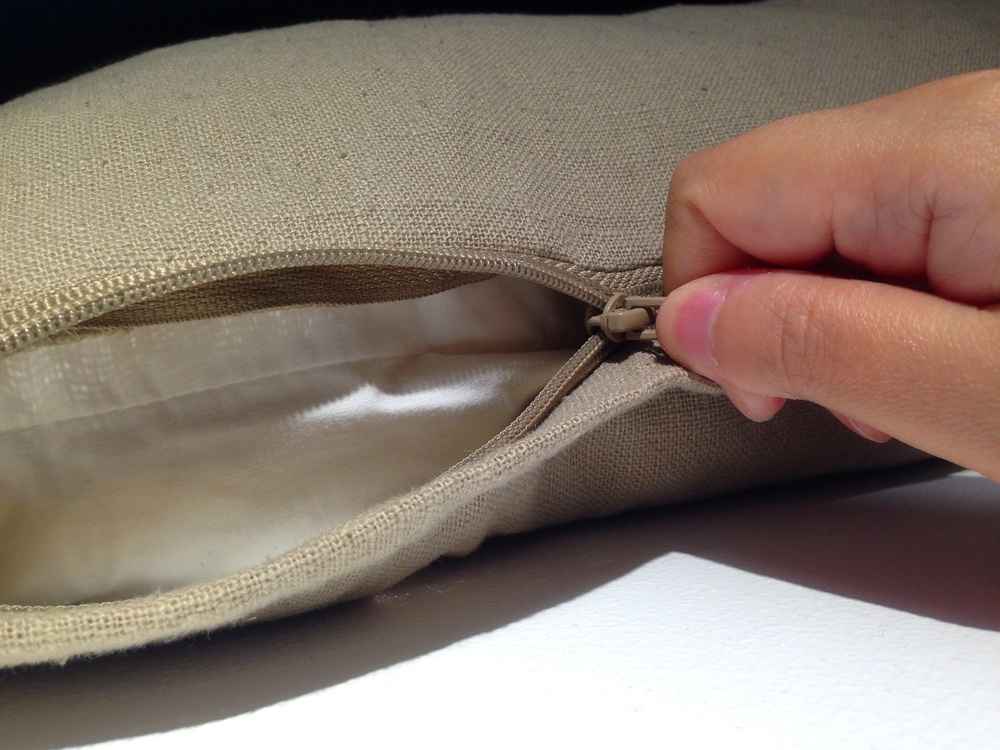 If your dog's bed has got a zipper or velcro hook and loop fastening, chances are you'll be able to get the inner stuffing out.
Stuffing is almost always enclosed in its own light fabric lining, allowing it to be washed safely. If this is the case, first check the bed's tag to make sure it can be washed, then put it on a gentle/wool wash at a low temperature in your machine.
If the stuffing is loose, take a look at see how dirty it is. If most of the dirt is on the outer cover of the bed, it might be okay just to wash the outer and replace the stuffing without any cleaning. However, if loose stuffing is soiled, you'll probably need to wash it by hand inside a soft cotton pillow case. If the manufacturer instructions say the bed can be washed as one without taking the loose stuffing out, then method 3 should be your next step!
What you'll need
Vacuum cleaner
A lint roller
A firm brush for loose dirt
A pet-safe detergent
A washing machine with a gentle cycle – or handwash facilities
What you should check
Ensure there are no frays or splits in either the outer or the inner of the dog bed – this will mean no tangles or damaged to by or to your washer.
Washing process: How to wash the inside and outside of a dog's bed separately
Using a lint roller and vacuum, remove as much dog hair and debris as possible from the whole bed.
Undo the zipper or fastening on the dog bed cover.
Carefully remove the inner stuffing.
Check both the outer and the inner for a tag with washing instructions.
Assuming the instructions for inner and out are the same, place both in the washer and set machine accordingly.
Add your pet safe laundry detergent, then start the wash.
When finished, lift out of the machine and follow manufacturer drying instructions if present. If not, dry outside, ideally in the sun – or safely on a radiator or near (but not on) an internal heater.
When both parts of the bed are dry, fluff the inner stuffing up and place back into the bed.
This machine wash method should result is a fresh and clean dog bed – but if any marks do remaining, you can go back to method 1 and try spot cleaning and left-over marks.
Method 3: Wash the whole bed at once
(Best for machine washable stuffed beds that have the stuffing stitched in)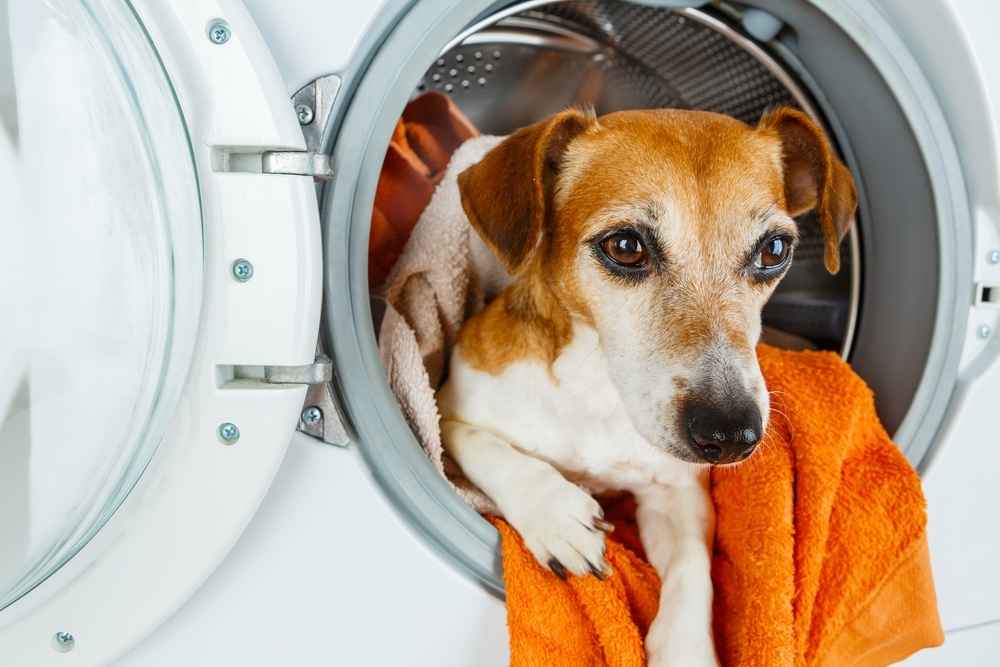 Can't get the stuffing out of your pooch's bed? No problem, some beds can be washed in one piece.
Before we get started, there are a few things you'll require and a couple of things you'll need to check.
What you'll need:
A vacuum cleaner and/or lint roller
A drier or space to air dry the dog's bed
A washing machine or handwash facilities
A pet safe laundry detergent
You may also decide to use a pet safe dryer sheet to give your pup's bed a lasting fresh scent after it comes out of the drier.
What you should check:
Make sure the bed cover or inner liner have no splits or heavily frayed areas.
Check that all zippers are closed.
Look for a label that offers manufacturer recommended hand/machine wash instructions.
Washing process: How to wash dog bed with stuffing (without taking it apart)
Start again with the vacuum and the lint roller to get most of the hair and debris off the bed.
When you're confident you've got most of the hair off the bed, check the for a tag with washing instructions.
Place in the washer, then add your chosen pet-safe washing detergent and start a gentle wash.
When the wash is done, remove the bed and allow to dry – either in the sun – or on a radiator.
When you're confident the full bed is dry, fluff the inner stuffing up as much as possible.
Again, if any stains or marks remain after a machine wash, you might decide to try method 1 as well – spot removing any mucky marks your dog has left behind.
All done?
When the bed is clean, you can reintroduce it into your home – free from smells or stains!
Be aware that some male dogs may decide to mark (pee on) their bed if they notice the smell has changed. If dog has a habit of doing this, giving the freshly cleaned bed a quick squirt with a urine repellant might be a good idea.
How to wash a dog bed with stuffing – Frequently asked questions and tips
Can you wash the inside of a dog bed?
Over the years, we've had lots of emails and comments asking "Can I wash the inside of a dog bed?"
As you can see from the methods we've listed above, it's perfectly possible to wash the inside of most dog beds. Check the manufacturer's care instructions, then follow these as closely as possible.
The real key to getting a good result (even for beds that manufacturers recommend not washing) is to choose a gentle method, allow plenty of drying time, and do a good job of 'fluffing up' the bedding when it's dry.
How to clean dog bed stuffing
When it comes to cleaning the stuffing of the bed, you've got a few options.
As mentioned above, if the stuffing is in a liner, you'll be able to follow the manufacturer instructions. If there are no instructions, it's probably a good idea to try a gentle handwash first – or go for a gentle cycle in your washer.
If there's no liner to keep your bed stuffing in place, it's important you don't put it in your machine, as it could break up and cause blockages. Instead, place the stuffing inside a pillow case (or two to be safe) – then handwash using a good mild detergent.
Keep in mind that some stuffing isn't designed to be washed – and if this is the case, you might be better opting for a new bed with a washable inner.
How to wash a large dog bed with stuffing
Tackling a large dog bed is really just the same as taking on the cleaning of a smaller bed – so you'll be just fine following the methods above. That said, you may need a larger capacity washing machine and plenty of space to dry the dog's bed.
If your dog is a really large breed (we're thinking Great Dane, St Bernard, Newfoundlands, etc) then you might need to take the bed to a specialist cleaner who has a larger capacity machine and drier. Generally, if a laundrette washing duvets and blankets, they'll be able to deal with a large dog bed too.
Some of the best washable dog beds available today
If your pooch's bed is past its best, we've picked out a few great replacement choices that are all available on Amazon. Check them out here:
Furhaven L Shaped Orthopedic Washable Dog bed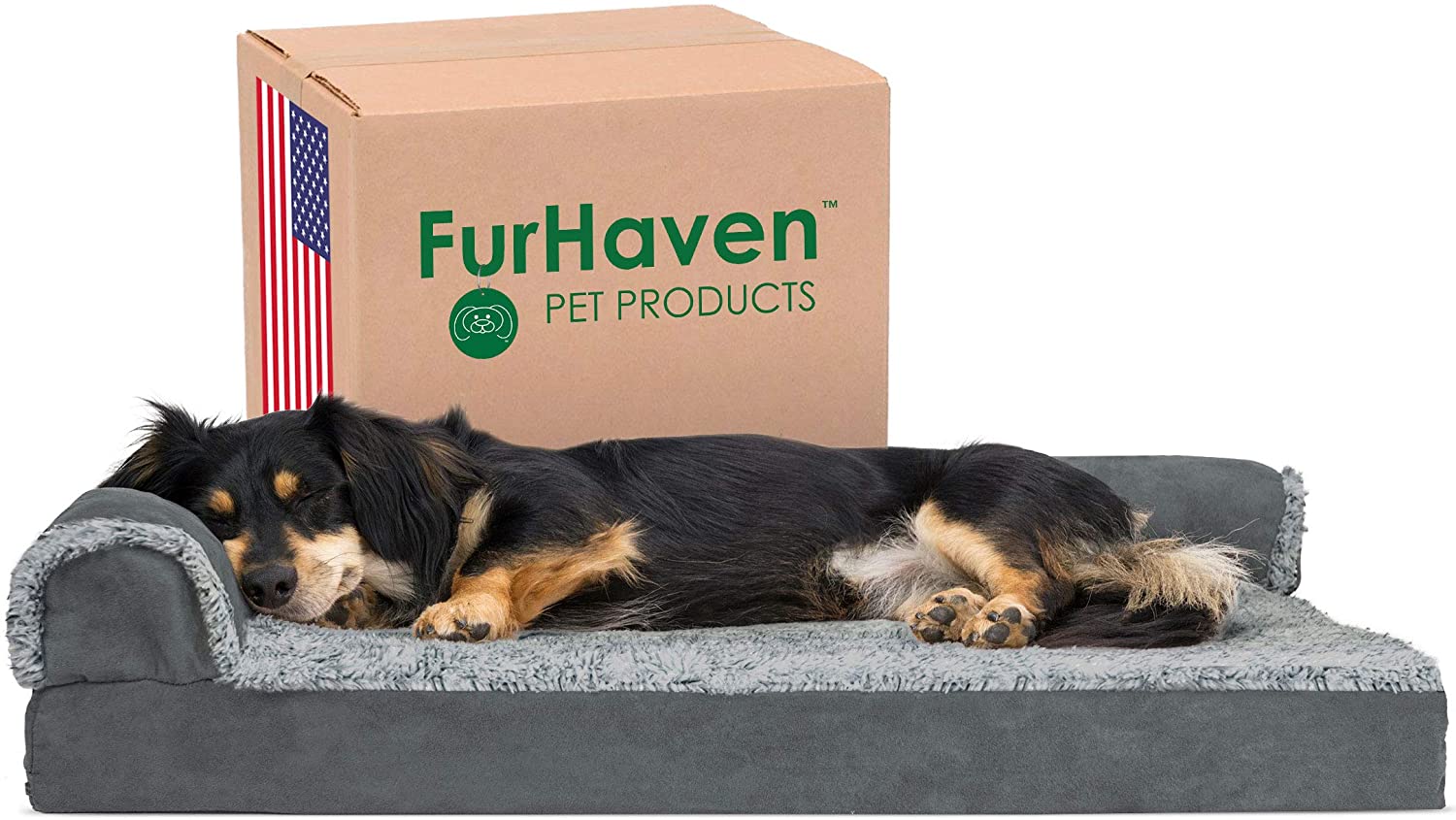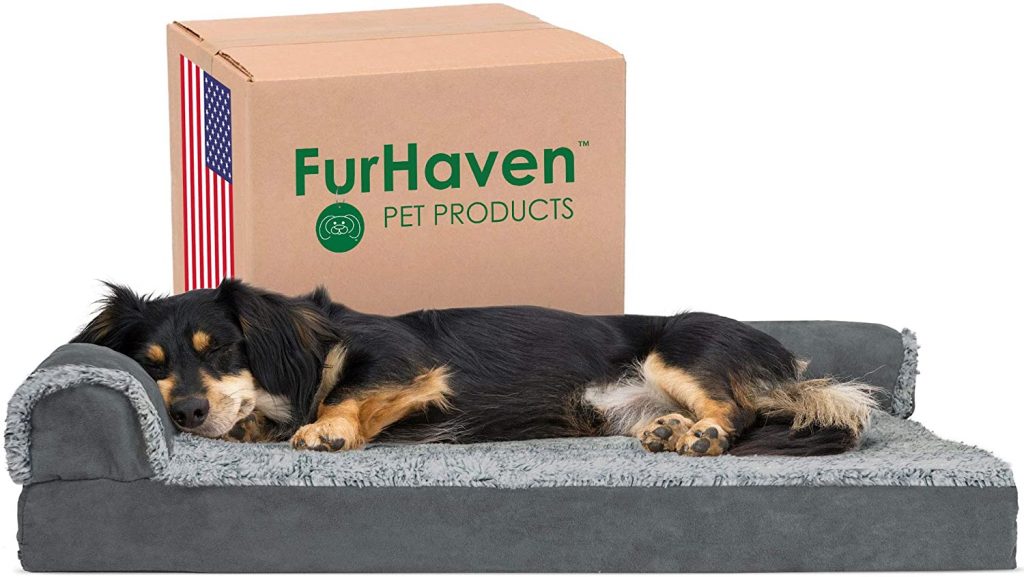 Furhaven make great beds that are designed to keep your dog well supported and comfortable. This L-shape offering is great if your pup likes to snuggle up against something – it's effectively a small sofa for your dog!
Check the current price and availability on Amazon by clicking here
BedSure Orthopedic, Removable and washable Bed for Cats and Dogs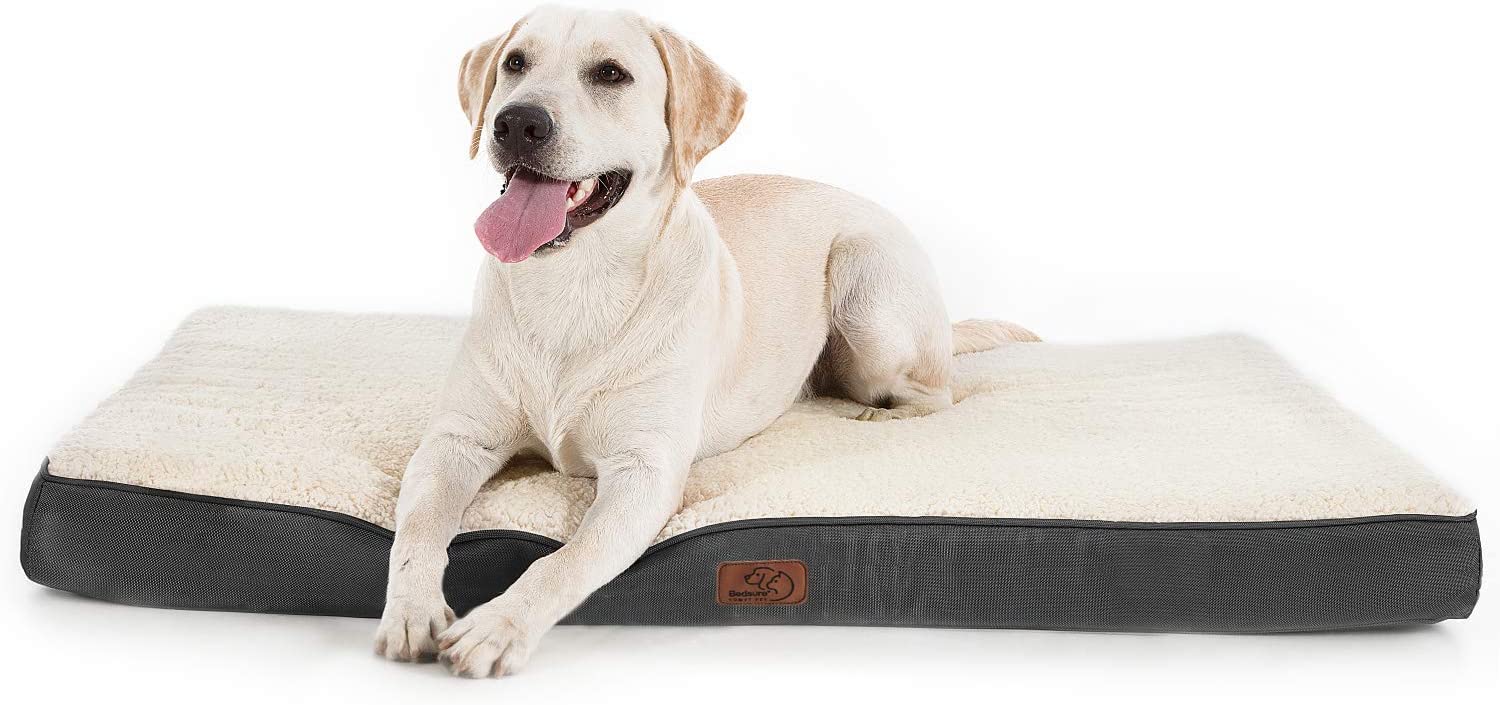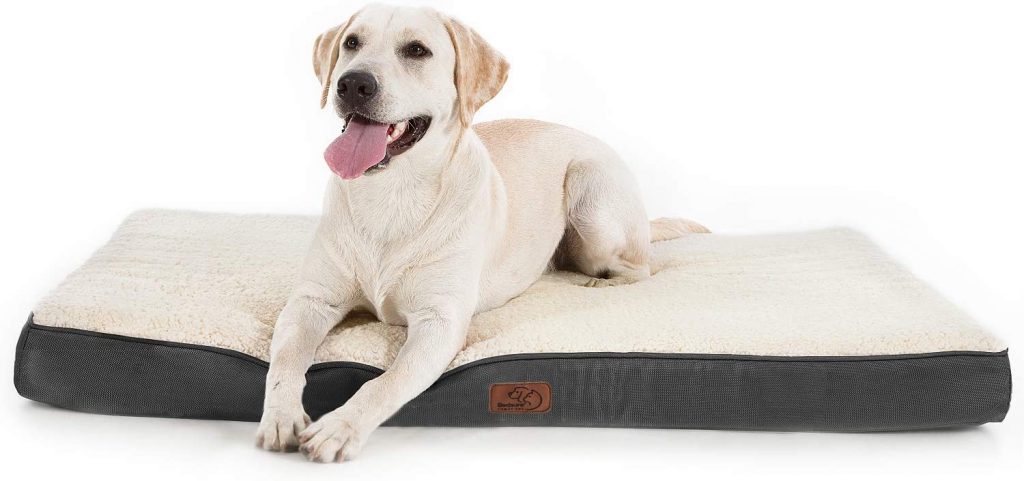 Ideal for both cats and dogs, the fully washable BedSure Orthopedic is a completely flat bad that looks great and offers your four-legged friends somewhere comfortable to sleep.
Check the current price and availability on Amazon by clicking here
MidWest Homes Pets Washable bed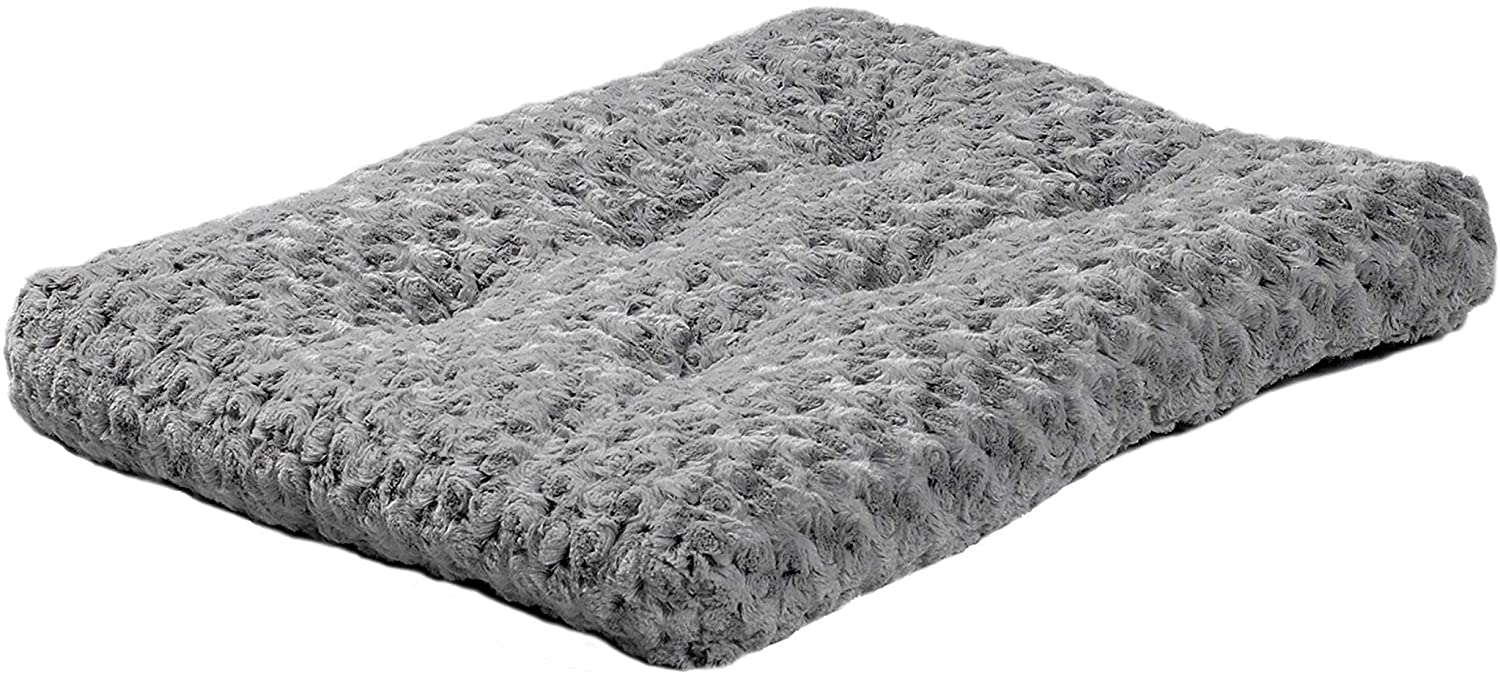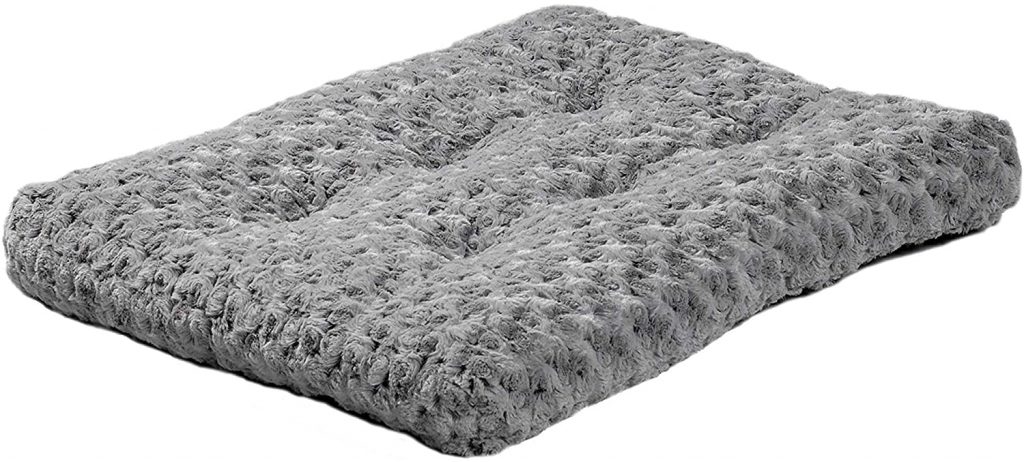 If you're looking for a budget bed that doesn't cut corners on comfort or washability, this is the bed for your pup! Ultra-comfortable, machine-washable, and a great price!
Check the current price and availability on Amazon by clicking here
In summary: Can you wash the stuffing of a dog bed?
If the idea of reading a full page about washing your dog's bed sounds boring and you've jumped to the end – don't worry – you can do a great job of washing a the stuffing out of a dog's bed.
In fact, we've listed 3 simple ways above – but we're always keen to hear about any methods we haven't covered!
Do you know a better way how to wash a dog bed with stuffing? Have we missed any great products or crucial steps? Let us know!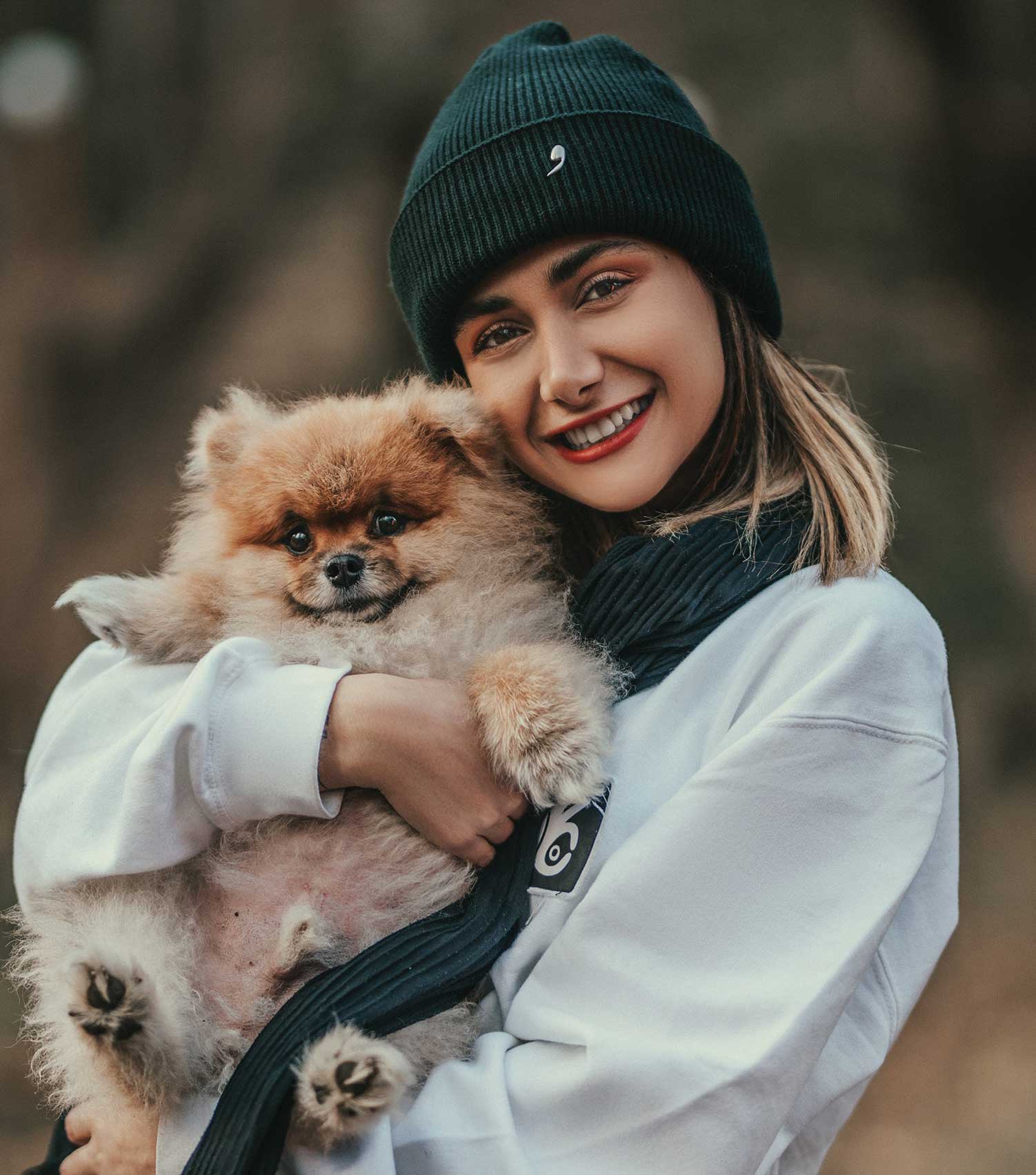 This is Evelin K. Williams. I am passionate about dogs, cats, and love sharing everything. I have Created dog cat talk to talk about my journey. Products that I have used/admire, and lessons that I have learned in my dog cat career.